Bitcoin Cash (BCH) bear market rally incoming!
Date: 9th July, 2022. Saturday
Before starting today's topic let me ask you a simple question. Not a tough one but a simple one. What do you think about Bitcoin Cash aka BCH? Where is it heading? Is it the end journey or is it making it's way to gear up for rise? Well, this is my curious mind's question to you all. Because I know you people have already invested in crypto and have vast knowledge about crypto market. So here I am looking for you people's suggestions about it. Don't forget to answer me later.
Hello people. This is your desired Devil, awaken after a long sleep like dracula. Oh, never mind. I'm joking. I hope you haven't forgotten me. I was really busy with my home decoration and had barely some times to appear here. Somehow I manage today and back with a positive news. Yes, it's all about crypto and let me be specific, it's about our beloved one, Bitcoin Cash(BCH). Let us not waste our time.
For last few months, we have seen the greatest downfall of the market. I'm not heading towards the reasons. You all knew those already. Some people even thought that is bitcoin cash a stablecoin? Or does bitcoin cash have a future? I'm thinking about the next session, the next journey with crypto. Specially the journey with BCH. Don't know about others but I'm highly dependent on it. It has a direct impact on my life. After the blood bath of BCH, will it rise again to bring back some happiness to the people?
Bitcoin Cash (BCH) bear market rally incoming!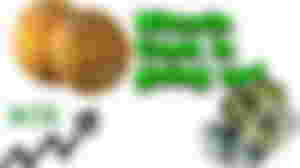 Currently, BCH is now setting the newest and the lowest price benchmark. It has beaten previous lowest price rank. Now, we are looking to the price chart and thinking for our next steps. Some people think that dealing with this crypto should be risky and some people are still in hope. Well, maximum people are guessing and praying for the rise. Count me in too. Because I am thinking the same. Now, there is always a risk in crypto market. Other cryptos are having the same risk as BCH. The market has some positive sides and obviously some negative flows too. If we analyze the present market, I think there is the flow of positivity. I cannot make you feel understand but the price range and market point out that a rise up is coming. So be prepared my friends, there will be a shocking turn over and BCH will rise up again.
Crash & Rise Chart
If we remember the market status, everyone would remember the rise of December 2018. Remember that? The generous rise not only influenced people to invest in BCH but also helped too many people to believe in it. But every rise has a fallen story too. March 2020, when the world was dealing with Covid situation, the market crashed and people felt the heat of red zone. Again we saw the rise but in the next year. Probably in April or May of 2021. Then it fall again and I think I don't need to mention it. Now, look at the chart. Every time it crashed in the lower section, it sets new journey to the upper section. You know what I mean, right? It means the crash and rise chart is truly indicating for the rise.
Our steps should be what?
Let me warn you at first. I'm not an crypto adviser or an expert analyzer. I'm just sharing my researches with you people. I'm not influencing anyone to do anything. Be careful. The market is in lower mode and I'm expecting a rise. But there is a possibility of bullish turn. So my advice will be simple and justified. If you are ready to invest now, do it wisely. I suggest you to invest only half of your capital. If the market goes down further you can invest the rest there. Calm down and hold your nerves. Research well. You should look to other markets too. Specially, Bitcoin (BTC) and Etherium (ETH). Because these two different coins have direct impact on other coins. Besides, you need to look over the economical crisis trending all over the world. So have patience. Otherwise, you will be asking the same questions, why did bitcoin cash drop or why did bitcoin cash crash? It is safe but there is no possibility of over taking bitcoin.
---
All the pictures belong to me. Edited via picsart.

Millions of thanks to @Theblackdoll for the care.