Sunday Fam Day!
May 23, 2022
What's up people! It's 12:25 am already and I am not yet sleepy, well actually a while ago I keep on yawning but now that I am done watching KMJS, I can't sleep. I already played ML oh I miss playing this I have no ML on my phone it's my partner's account hehe. I played rank mode and two lost one win haha, good thing he has protection points that's why his star didn't lessen.
Before I start my story today, I just want to share that I am a one year user here already yet! Though, I've been inactive for these few months because of my responsibilities and work I am still thankful that you guys are still here to support me. I know I have lost some of my sponsors here but I understand and know the reason why. I'm very grateful that I am celebrating my first anniversary here, I have learned a lot. Maybe I will write a separate article about my one year journey here.
Thank you so much read.cash admins and community!
---
Sunday is the usual rest day for most of us, especially those who are working. This is the only day that everyone is free so there's what they called family day.
Yesterday, my partner and I together with our baby went to church. This is the second time that we bring our baby out. We arrived at the church at exactly 4 pm. Since there are many people inside we just sit outside, there are chairs and a tent outside.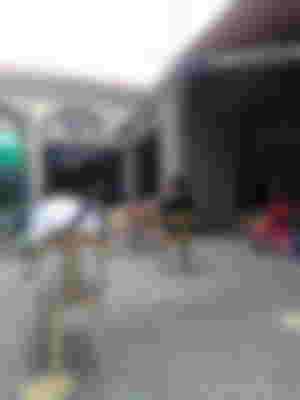 Since we still have a pandemic the chairs are positioned at a distance.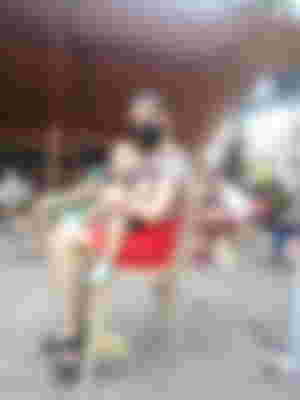 We have a baby carrier that was given to me by my cousin in the province. This is the first time that we use this hehe first time we bring our baby outside we forgot about this XD.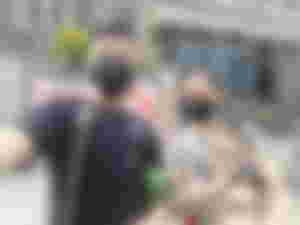 After we attend the mass, we went to the mall near here in our place. Good thing that my baby doesn't have tantrums, he was so behaved.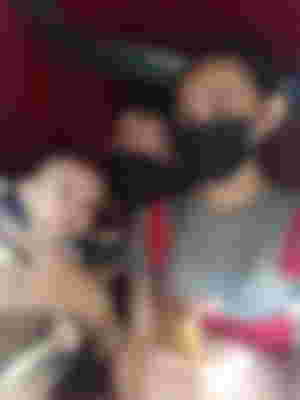 This was our photo inside the tricycle hehe going to the mall.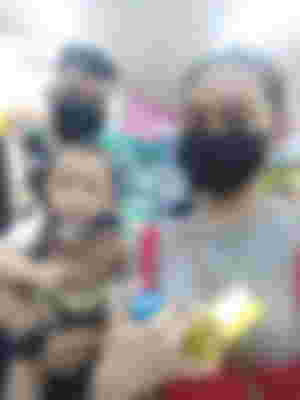 We go directly to the supermarket inside to buy food for my baby, you know Gerber guys? I chose the carrot flavor. We also buy vitamins since his vitamins were already empty plus we buy extra nipple for his bottles. We only bought 3 items but the total was almost P200 ($4), haha but it's okay as long as it is for my baby.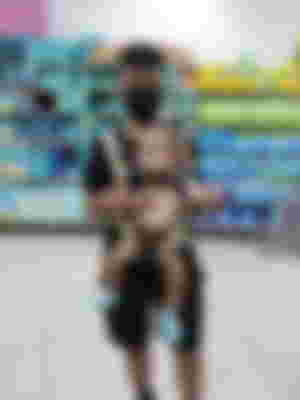 My baby was not in the mood already, he just want to look around his surroundings.
This is a funny story.
When we went outside the supermarket. While walking the saleslady with her cheerful and loud voice says "Hala, si baby patulog na oh!" (The baby was about to sleep look!). And when I looked at my baby I saw his sleepy eyes, he was about to close his eyes but it seems that he fights his sleepiness. Haha! So I told my partner to change his position, and we make him turn around, and face his father's chest so that he can lean his head.
When we did that, he easily fell asleep. We are about to eat in Mcdo but my partner told me to just go home since there are long lines and the clouds are dark, the rain might fall. We went outside and find a tricycle. My baby was sleeping when we arrived. We headed first to my father's house and they just woke up my baby haha poor baby but he was smiling all the way while his titas and my father are talking to him. We didn't stay long because it was already drizzling. We have an umbrella though.
When we got home, we changed the clothes of my baby and make milk for him and he fell asleep instantly.
He's always sleepy when we bring him out haha.
---
Since we weren't able to eat, my partner went to Mcdo again to buy food. I wasn't able to take a photo because we are so hungry and I forgot to take a picture haha lol.
I am happy that I enjoyed my weekend together with my family. Later, back to work again hays. I don't know if I can stay long in my work I just don't feel excited anymore, hmm I am okay with my team but the work itself hays some callers are very toxic but like what they say, "don't let what the called have told you to affect you" I just need to use myself in hearing hurtful words sometimes, it's part of our work I think. I just think of my baby as my motivation to keep going.
Thank you for reading people! Will sleep now see ya later.
-Loveleng18