Celebrating new year
HAPPY NEW YEAR EVERYONE! WELCOME 2022
Since December 30, our neighbor was playing loud music and others are having their videoke already. They celebrated long for the new year. Since the new year comes people don't mind loud noises.
Anyways, do you feel the coldness guys? Here in our place, it's been cold since yesterday and this is making me sleepy now but no I won't let this day end without publishing an article. This is the first day of 2022 so I need to write.

Image source
Yesterday, people are busy preparing for media noche. Markets are crowded and some children and adults holding a basket or basin that have a paper where you can read the word happy new year, they are asking for coins.
Here in house people are busy also when we arrived. I saw my father and sister just arrive also from the supermarket, they buy ingredients and also alcoholic drinks. My father marinated pork that they grilled in the afternoon and make a buko salad. We don't have mango float since last Christmas we made one. While my sister prepares Shanghai and spaghetti.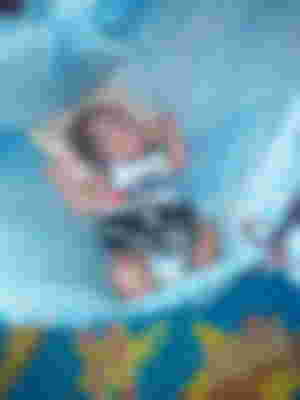 Since there are loud noises outside and our house is near the highway, there are people who drive their motorcycles creating a loud sound, my baby can't sleep because he keeps on being startled. So my father created a hammock for him and look he had a good sleep.
There's the announcement that no one is allowed to use firecrackers and just use any things that can make sound but we are still hearing some firecrackers outside early in the afternoon. People are hard-headed hehe.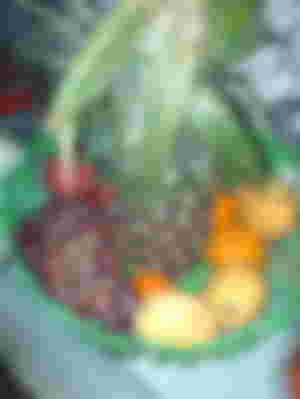 These are the fruits that my father and sister bought on the market. I told them that it should be 12 different fruits that have a round shape so we added some.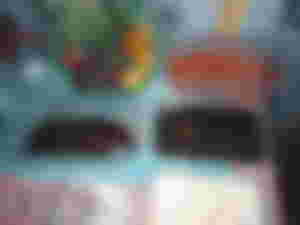 I forgot to put the calderetang baboy on our table. These are all the foods that we had on new year's eve. We didn't make a lot since last Christmas foods got spoiled because they didn't eat them. We have fruit salad, Biko, grilled pork and calderetang baby and also there's a cake that gave by my sister's mother in law.
We also have ham but we didn't cook it, they stock it in the ref. That's our viand tonight hehe.
When it's already 11 pm we changed clothes already and go downstairs for the countdown. We take a video while we are counting and when midnight comes, we shouted happy new year and greet each other. We have also music and we party hehe. There are many firecrackers outside. My sisters go outside and watch it. While I and my partner didn't go out because we don't want our baby to smell the smell of firecrackers. So we just waited for them while watching the fireworks in the window.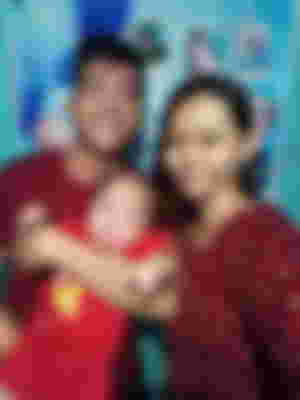 Since we can't go outside we just take pictures. Happy new year everyone from my little family. Seems that my baby doesn't want to take a picture XD.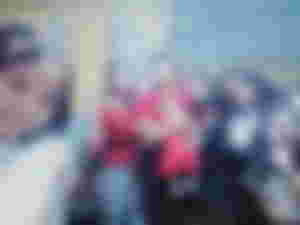 These are my sisters and the one in front is my niece. Look at my hair guys I make it short. New year, new hair? Eh?
My father drives his motorcycle on the highway like others creating a loud noise while I just get a cauldron and put found inside then I shake it to make a noise, they say when you are making noises the bad luck will go away. I also throw coins on the floor which my little sister and niece get.
---
We had a simple celebration during new year's eve yet we are happy welcoming year 2022. How about you guys? How did you spend your new year?
May this year be a blissful and fruitful year for us. Happy new year again guys!
-Loveleng18