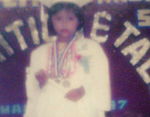 Hi im Jean Vasquez,30 years of age...living here in the Philippines im from Bicol,albay.
I am a simple girl who wants the best for her family..i notice this read cash on my noise cash account so i want it to try..i want to share with you my story .I am not financially stable so that i want to learn more about this read cash i have 3 kids my eldest son is 5years old and my two daughters are twin their are 3years old now..
I am very thankful that god gave me such a cute children..but raising them is hard for me..
I am a fulltime mom.. i live with my parents because i dont have a house from now but i will not stop thingking for my childrens need...
I am looking an everyday job but i refused to do it because they are still a baby no one of my family can be their for them so i learn online selling on my account on facebook,then i saw a bitcoin cash then noise cash so in that lil amount that i earned my children feed because of my online.
I am thankful with this site,noise cash ,read cash that because of your genuine heart many people survived ,helping other people to survive in this pandemic i am so much greatful that i am here sharing my stories with you...
Hoping that this short story of mine are touch your heart, hope you like it..and sorry for my grammar , i am not fluenty speak in english but i am a fast learner thats why this article it takes time to publish because of my grammar but thank u in advance to those who read my article.
Thank you so much for this opportunity i would like to thank my friends in noise cash who recommend this read cash. I am willing to work it for my childrens future.I know BCH is the best future.This is my own experience since i joined and learn about bitcoin cash my life now has changed because in the small amount that i earned its a big help to my family .
I am greatful to be part of this site thank you so much❤️
Thank you so much read cash❤️❤️❤️