Hey guys newbie here😀😀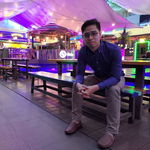 Hey guys,
Just got here today and let me introduce myself. My name is kyle from the Philippines currently working on IT industry for 8 years now, my friend introduced this site and got interested as she demonstrate and teaches me how it's done which I find very interesting since I was able to spend my time reading stories, learn, share thoughts and knowledge.
Why read cash?
The answer is I don't know yet and I don't see any negative points having here so I give it a shot. Maybe as time goes by I may have the good answer why I got here.
Do you think read cash has potential?
Absolutely yes! Coz it's very different with other platforms. Just imagine, Cryptocurrency is here and the future for all of us.
I may not be good on writing but I guess I would love to be here most of the time and learn good things especially on writing but before that, I should be open on any ideas and suggestions so help me out guys, my door is 100% open for improvement.
Let us all grow.
Read cash baby🔥🤙🤙