🙌 Registration 5 ZIL+ Referral 5 ZIL from ZEEVES bot🤖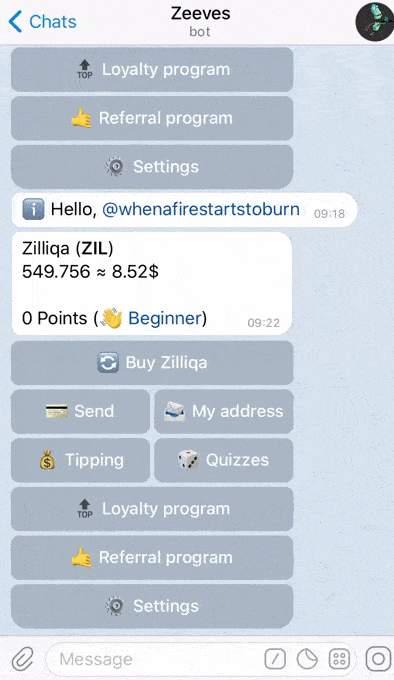 Zeeves is the official bot wallet of the ZIlliqa
Registration - 5 ZIL (0.1$)
Referral - 5 ZIL (0.1$)
The output has been verified. The token is traded on many exchanges, incl. on Binance, Huobi, KuCoin .
1. Launch the ➡️Zeeves-bot⬅️ and click Start (if it doesn't answer, click again🤪).
2. Click Create account to go to the Zilliqa wallet website.
3. There create a new account - enter the password and mail, save the QR code (to access the wallet in the future). After that, you can return to the bot and check the balance (5 tokens are credited with a slight delay).
4. Press the Referral Program button to get your referral link and start inviting friends and receive 5 ZIL for everyone who successfully registered in the bot.
Also, for each referral they give 200 points as part of the rating loyalty program. At the end of each month, participants are awarded prizes depending on the number of accumulated points (ZIL tokens and branded merchandise).