I Won't Blink [RRFB]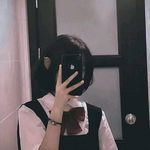 "Your eyes are the windows to your soul", as they always say. But my eyes aren't quite like that. It's just a mirror of Erised. You will only see what you desire and want to see. It's like a lake, as tranquil as it appears. You can clearly see yourself if you look into it without any waves or chaos, but don't be fooled by it. It's lethal. You might feel all the hatred and become disturbed and drowned by it.
I'm the one who never blinks. It's a curse. Even though they were hurting me, I smiled without blinking because if they saw me blink, I'd melt like a burning candle in a dark maze.
They describe me as intimidating because I always have an answer to whatever they say. I always keep my head up to protect the crown in my head and maintain my position as the tallest person in my kingdom. But whenever night falls, I close my chamber, which is guarded by hundreds of dementors, remove that crown, and blink as many times as I want.
After centuries of doing it routinely, someone sneaks into the chamber when I left it open. He's a wandering white ghost. And he saw what I was doing. He saw my first blink and saw wax coming out of my eyes; after that, the wax didn't stop falling, burning my legs who caught it and making a mournful sound only heard in hell.
The white ghost can't believe what he's seeing. He's still stunned that he accidentally swayed the vase next to where he's hiding. I quickly placed the crown on my head to keep the wax from falling in my face and searched for the intruder.
I found him. I threatened to kill him if he told anyone what he saw, and he promised and vowed not to. Since then, he visits me in my chamber every day, even though I don't want him to, and he holds the crown for me when we're inside. He's letting the wax come out and waiting for it to fall. He's helping me in catching the burning wax and sharing my pain.
I showed my vulnerability, all my chaos and flaws, and he loved me all the more for it. I fell for him as well. I told him I'd join him. I'm going to kill myself and meet him in the afterlife, but he won't let me, so he'll just wait for the right time. Until the last drop of this burning candle self melts.

Sponsors of KirstenCassandra