You can't tell me you don't have one. There's always that meal you live and always like to take whenever you get the chance to. You just rush to it like there's no other food you can have.
People have their various ones and one thing those favorite foods does is they take your brain off thinking for as long as you keep eating them. Isn't that just great?
You just sit and eat. Eat till you forget there's anyone around. You even forget to ask if there's anyone that's going to sit and eat with you 😂. Oh well, it's a good thing and that's why you shouldn't feel bad.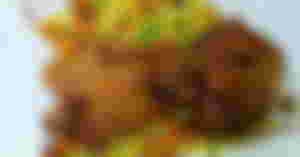 Just look at that meal. Even if you haven't taken it before you'd feel hungry and you'll want to have a taste from it. This is called fried rice and chicken if you don't know. And I must tell you, it's one of the best foods you can ever eat.
It's time for you to share the food you love most and let the community know. You can make this as interactive as you want it to be. Cause that's the fun isn't it 😅
Let's go!