If you prefer to treat yourself to eggs for breakfast, fried eggs with pesto will delight you. It's an enriched version of Egg Eye that enthuses online users around the world and floods social media.
TikTok has recently become a real 'source' of practical ideas and cooking tricks. We can always find a good idea for a quick breakfast, lunch or dinner on it, and users also share thousands of useful cooking tips and tricks under the hashtag #foodhacks, which can save us a lot of effort and time.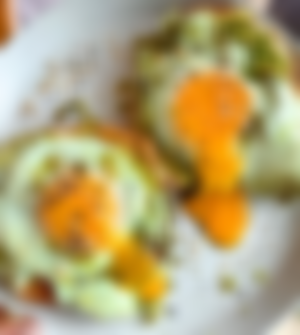 The latest trend coming from this popular social network is fried eggs with pesto. It is an enriched version of the popular fried eggs 'on the eye', which are always served for breakfast. The recipe was shared by dietitian Amy Wilichowski, who uses pesto instead of oil or butter to bake eggs, a popular Italian sauce made from basil, olive oil and pine nuts, which adds a wonderful aroma and taste to eggs. "You have to try egg pesto. I swear it will change your life, "says Amy, who prefers to serve fried eggs with pesto on toast with ricotta, avocado, honey and red pepper flakes. The video recipe has already been viewed by more than 150 million online users, and the trend has quickly flooded other social networks as well, especially Instagram, where we can admire beautiful photos of fried eggs with pesto under the #pestoeggs key.
When you try the recipe yourself, I warmly recommend that you choose a good pesto, as it will contribute to both great taste and a beautiful presentation. It is even better to prepare it yourself, just following the recipe.
12 g fresh basil leaves
80 g parmesan
2 string garlic
60 g pine nuts
0.25 spoons salt
2 pinch pepper
5 spoons olive oil for pesto
1.Wash the basil leaves and dry well. Grate the parmesan and peel and grate the garlic.
2.Shake the basil, garlic, parmesan, pine nuts, salt and pepper in an electric mixer and mix until you get an almost smooth creamy mixture. While mixing, gradually add the olive oil and make sure that all the ingredients are evenly chopped.
3.Fill the prepared pesto into jars. Flatten it on top and pour olive oil over the top of the glass. Close the jars tightly and then store in the refrigerator.
Watch the whole process of preparing eggs with pesto in the video below, and you can treat yourself to prepared eggs on toasted bread or toast and, if you wish, include them in your breakfast in some other way.
https://www.tiktok.com/foryou?referer

Thank you for reading.
Greetings.
@Kaya