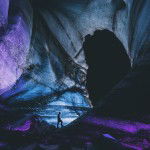 Retribution II
[New Entry]
It's been a few years in the freeze Suspension, but with no notice of time phoenix and the ladies only had their memories on repeat, rearranging and spinning into different forms and endless possibilities. Then there was a ringing tone that carried a vibration through the freeze Suspension, it sounded like the bowls they heard being used back in Bhutan for meditation practise. To Phoenix this was a reminder of how the freeze suspension had been like the longest meditation session he couldn't feel. Their attention was diverted from the memories to feelings, they became aware of the feeling of the suspension embracing them in what seemed like airy sublimation. It was like nothing any of them have ever felt before, it definitely was not solid but it held them in place, it definitely wasn't fluid yet it had the flow of vibrations and tones in it. It was like an arrest by the elements, a lucid dream of the highest quality, too much..
They slowly started gravitating towards the center where the artefact was now split into six pieces that looked like big drips of fitting parts of a diamond. As they gravitated towards the center, the pieces of the artefact moved outwards as if to position themselves around Phoenix and the ladies leaving two pieces in the center. Their sight became clearer as they moved closer to the two pieces in the center.
"This must be, by far the most entertainment Phoenix had in the longest time" Mary teased
"Oh shit, I can hear you, or perceive whatever" said Speedy McQueen
"Ladies, we need a plan out of this, there's no obvious indication of time so it could have been hours,days or even years in this thing. I don't like being in this thing, it's too weird" said Phoenix as he tried to move but still couldn't.
"There's something we've missed here,we need to figure out what we missed here" Sophie said sounding alarmed.
"Everything works by law of permission so that must mean we have it permission somehow right? As much as we have it permission we can take it back and stand in out power. It's the four of us against one, artefact for that matter" exclaimed Mary
"On point but there was something Sophie said she didn't understand about the artefact, we still don't even have the artefact's name and Sophie won't give it. She claims the name to be too powerful"
Said Phoenix still trying to move but couldn't
"That's right, it's not really about the name but the fact that these kind of artefacts choose their wielder themselves. Phoenix, very similar to the ka'kari and retribution. They had chosen Kylar Stern leaving Durzo Flint to go look for some other artefact to keep his life together and the demons away right?" Sophie stated
"Yeah but how does that compare to us being suspended by this thing you won't even name? For all we know it is keeping us for dinner" responded Phoenix still trying to move about but couldn't."
"Retribution and the ka'kari chose Kylar Stern because of the nature of these artefacts, they know exactly what they want and they have been conditioning Durzo Flint into what Kylar Stern naturally was. It could be the same thing happening here." Sophie continued
"Who is this ka'kari and Flint? Flintstone or who? Asked Mary
[next Verse]