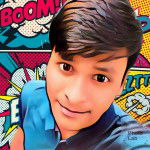 Someone is constantly knocking on the door. Not wanting to get up. I feel very tired after working all day. Keep tapping. If anyone don't want to open the door, you may leave. The level of tapping is increasing. Despite my reluctance, I went to open the door. The owner of the house and his daughter are standing in front of the door. I opened the door and saluted.
The owner of the house said to me,
-Are you all right? Is it so late to open the door.
-No uncle, I'm fine. In fact I fell asleep.
-Sleep in this abyss? Are your health is good?
-Actually I came from the office so I am little tired. But I'm fine.
-Then you have to take rest. Sorry for disturbing you.
-No uncle, its ok.
-Ok take rest.
-Thank you.
The owner of the house come every day to see me. Sometimes I think there is a problem in this house. Or why will he come everyday?
I have been living in this house only a few days. No problem yet, only at night it seems that the room temperature drops a little too much. Also no problem. In fact, it is matter of luck to me to get such a home. No one wants to rent a house to such a bachelors. There is no flat on it. But the owner of the house rented me a house and took my information everyday.
I don't have the habit of arranging anything again. Thats why such a big house always random. But when I back home today I was a little surprised. The T-shirt I wore last night when I left in the morning.
I was left on the table. It's not there now. I went to the bedroom and saw that my bed was made. This time I really surprised. There is no one else in this flat except me. I didn't pack them, so who?
The T-shirt I wore last night is also floded on the table. What's going on?
Not wanting to go to the hotel for dinner tonight. I can't cook again. I can only cook rice and pulses. These are always good to eat. So I came downstairs to buy some food and Benson.
To be continued.
Lead image from Pixabay.com
Thanks

Shukran

ধন্যবাদ
for reading my article.