Ethan's Quest: The Legend of the Bitcoin Trader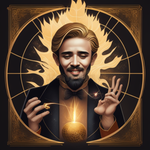 Once upon a time, in a bustling kingdom named Bitania, there lived a young and ambitious merchant named Ethan. Ethan was known throughout the land for his exceptional business acumen and unwavering determination. He dreamed of achieving great success and amassing a fortune that would rival even the wealthiest nobles.
One fateful day, news spread across the kingdom about a revolutionary form of currency called Bitcoin. Ethan's curiosity was piqued, and he delved into researching this new digital marvel. He discovered that Bitcoin was a decentralized cryptocurrency, free from the control of any central authority. Its value fluctuated based on market demand and supply, offering tremendous potential for profit.
Ethan was captivated by the idea of trading in Bitcoin. He believed that by harnessing its volatility, he could turn his modest wealth into a fortune beyond his wildest dreams. However, he knew that success in trading required careful strategy and risk management.
Determined to learn the art of Bitcoin trading, Ethan sought out a wise old sage named Alaric. Alaric was renowned for his mastery in financial matters and had navigated the treacherous waters of the market for decades. Impressed by Ethan's passion and eagerness to learn, Alaric agreed to be his mentor.
Under Alaric's tutelage, Ethan began his journey as a Bitcoin trader. Alaric taught him the importance of patience, discipline, and thorough market analysis. He emphasized the need to develop a deep understanding of market trends and indicators before making any trades.
As the days turned into weeks and the weeks into months, Ethan honed his trading skills. He experienced both the thrill of significant gains and the anguish of occasional losses. Yet, he remained resilient and never lost sight of his ultimate goal.
One day, Bitania fell into a deep economic crisis. The kingdom's traditional currency was losing its value rapidly, and people sought alternative means to protect their wealth. Bitcoin emerged as a beacon of hope during these challenging times.
Ethan recognized the opportunity that lay before him. With his newfound expertise, he swiftly adapted to the changing circumstances. He made shrewd investments and navigated the turbulent market with confidence. While others faltered, Ethan's diligent research and strategic trading decisions brought him considerable success.
Word of Ethan's prowess as a Bitcoin trader spread throughout Bitania. People from all walks of life sought his guidance and advice. The once-ordinary merchant had become a trusted figure, guiding others through the intricacies of Bitcoin trading.
Ethan's success transcended mere financial gain. He became an inspiration to those who aspired to change their lives through determination and knowledge. His story spread far and wide, reaching even distant kingdoms, where people marveled at his achievements.
As time passed, Bitania's economy stabilized, and the kingdom flourished once again. Ethan's remarkable journey from a young merchant to a revered Bitcoin trader became a legend that was retold for generations. His story taught people the power of adaptability, resilience, and the rewards that could be reaped by embracing new opportunities.
And so, the tale of Ethan, the visionary Bitcoin trader, serves as a timeless reminder that in the face of adversity, with the right knowledge, strategy, and unwavering determination, one can overcome any obstacle and achieve extraordinary success.