TRON has had one of the most outspoken follow-ups in the field ever since it joined the crypto market in 2017. In terms of market value, this coin leveraged this mutual interest and its special technological features to become one of the most prominent cryptocurrencies.
TRON adds another interesting aspect to the crypto market — it is also intended for use in the gaming and gambling industry, with the goal of developing and increasing legal gambling-type blockchain-based games.
In 2017, the Beijing-based cryptocurrency platform was created by the TRON Foundation and originally founded by Justin Sun.

Sun is a Chinese business owner who is well known already as the brain behind PEIWO, a mobile smartphone app focused on Pacific Rim live streaming.
There's no doubt that TRON has a bright future ahead of it as one of the newer cryptos, so if you're looking toward investing, you have to ask yourself a couple of questions. Here is some important information you must know about TRON.
TRON is a blockchain-based operating system in which decentralized apps can be developed and media content can be shared. The TRX token itself is used to obtain access to such operation device characteristics. Therefore, the primary purpose of the token is for use on the TRON network. Since it can be bought and sold on exchanges, it can be also defined as a virtual currency.
TRON helps Dapp developers, similar to Ethereum, to build and use complex protocols via smart contracts that reside on its native blockchain. The network is best recognized today for its processing rates and its charismatic CEO. The platform is specifically capable of 2000 transactions per second. Best of all there are zero processing costs on TRON. In seconds, you can send a million dollars worth of TRX to another location in the world and not pay a single cent.
The purchasing of BitTorrent and then issuing a token for it on the TRON protocol was probably the most successful action by the TRON Base. This allowed the project to advertise its services to millions of peer-to-peer application file-sharing users.
The idea of a global network seemed unlikely to happen until fairly recently. The world's computing power has not been up to standard yet. Even so, for just such a mission, the open existence of blockchain networks gives them an advantage. This is precisely the function TRON aims to capture.
Tron, known for its decentralized blockchain technology, began in 2017. It started off as a non-profit organization, the Tron Foundation initially started by Justin Sun. The idea behind it was to override other cryptocurrencies in terms of decentralized internet and accessibility.
Justin Sun was already a well-known figure in the blockchain sector, with a label under Forbes' "China 30 under 30." In addition to this, Sun prior to the creation of Tron, was the chief representative of Ripple, helping him create a larger network of individuals giving him the upper hand in having created Tron.
Tron started off with a massive ICO, having raised roughly $70 million where coins were at an approximate market value of $0.0019. This allowed investors to trade in their other tokens for TRX and granted the Tron Foundation the benefit of a large boost throughout its initial launch.
When it first launched in 2017, Tron had also acquired BitTorrent, a big step into the entertainment industry, giving birth to the largest file-sharing platform known today. All in all, Tron's main goal is to provide accessibility to free and easy content and storage on the internet and allow power and control to be given to content creators, rather than having limited flexibility over ownership with large platforms such as YouTube. The platform supports content creators such as artists, musicians, filmmakers, and journalists, among others. Today, Tron has a market cap of roughly $2.4 billion and ranking within the top ten cryptocurrencies to date.
TRON has its ups and downs as a currency per se, but that's nothing new in the crypto world. The biggest issue, however, is that there is so much speculation about the coin, with the real TRON platform not yet entirely available for use.
In reality, the production time frame suggested in TRON's whitepaper is very long, ultimately meaning we won't see the project come about anytime in the immediate future. All we can do, then, is buy TRON and sell it much like every other crypto. 
Tron is a decentralized blockchain system quite unique from others, with a special focus on entertainment. Users are able to create and share content such as videos, images, posts etc… on the TRON platform. The TRX coin, in this case, enables users to access the platform and make use of its extraordinary features. On top of this, the digital coin is still worth value and can be traded with other currencies on various trading platforms.
One of its most attractive characteristics that it prides itself on is its low transaction fees. This is due to the determinants of transaction fees on Tron being bandwidth and energy. In most cases, this value is extremely low and thus tends to attract investors and traders to get a hand on the coin.
Not only does Tron associate with such low costs, but its speed is also complimentary as well. Tron is able to process up to 25,000 transactions per second, which is far more than what Bitcoin or Ethereum can get up to. Similar to EOS, Tron has a DPOS (Delegated Proof-of-Stake) that enables the coin to process so many transactions in almost no time.
One of the key features behind the framework of TRON is focusing on the entertainment industry. It aims to allow the allocation of content around the internet at low costs and in a much easier process. It eases the work of content creators who want to publish their work with full ownership, as well as for content viewers who look for an easy and accessible way to find videos and images, among other forms of entertainment.
Looking ahead to TRON's next few years, there are bound to be some better prospects for the TRX coin price to rise as the project begins to evolve. For instance, TradingBeasts forecasts that Tron's price of $0.13 could be anticipated by the end of 2021 and $0.30 is expected by 2022.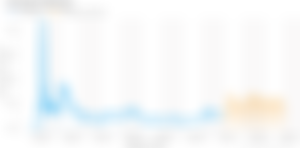 It is simple to achieve and get your hands on this revolutionary token. On the perk side of things, TRON exists on most of the cryptocurrency exchanges. All you need to do is create an account in one of those exchanges and buy TRON using fiat currency.
After you have purchased your coins you need to pick a wallet and store them. Wallets are small hardware devices or software platforms where individuals store their crypto. Ideally, if you plan to invest in TRX, you'll want your wallet to support the TRON network. 
1. Store your TRX in a secure wallet
As mentioned above, digital wallets are essentially tiny hardware tools or in some cases a software platform such as an app, where investors and traders safekeep their cryptocurrencies.
It's a good idea to get a hold of a wallet for those planning on investing large sums. Each wallet will have private keys that you will only have access to, ensuring the security. You may want to keep the private keys safe and provide security features such as a PIN code and multi-signature or 2-party authentication.
2. Invest as much as you can afford to lose
It's generally prudent to keep your initial investment in TRON reasonably small, considering its short history and still extremely volatile conduct. Also, seasoned investors have committed only a single-digit proportion of their capital in TRON while holding the balance in less risky securities. And preserve your investment discipline, amid the speculation and predictions, buying was just as you can expect to theoretically fail and not get caught away by promises of giant upswings.
3. Think long-term
It's smart to look at stashing your TRX for the long run unless you're someone planning to venture into day-trading. This creates less risk, which makes it easier for you to expect high-value increases. With the optimistic forecasts being placed for TRON, any patience for any higher premiums might be worth acquiring.
4. Stay up-to-date
One of the main crypto-trading strategies is to keep an eye out for patterns and signals. Signs will let you know that it may be a good time to invest. Market dynamics may help identify how the success of TRX will be in the near future and over time. It's still good to bear external influences in mind, however. There are certain indicators that impact the prices of TRX as well. It's possible to take Covid-19 into consideration here. Although the crypto market fell in March 2020, the world saw its fame rise right back up as many were afraid of inflation threats coming from liquidation funds.
5. Legal regulations
New laws will also affect the tax responsibilities, in addition to the likelihood of complex reporting procedures. The U.S. ruling on property means that your earnings are now perceived to be capital gains tax (15 percent), rather than regular income tax (up to 25 percent). Cryptocurrency tax conditions are different in regions, and many can adjust as they respond to the changing demand.
Moreover, TRON manages to constantly make its way through the crypto-headlines. This project continues to grab the ingenuity and hearts of crypto consumers around the world, from its CEO eating lunch with Warren Buffet to the unveiling of a new DeFi platform. It's fun right now to see what next this innovative team of developers has up their sleeve.