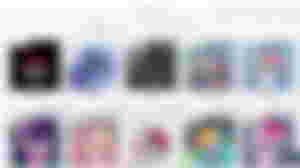 Non-fungible token (NFT) collectibles have been seeing relentless demand and publicity these days. While the Ethereum network has been the dominant force in this space, a great number of alternative blockchains have been introducing NFT support. In recent weeks, Bitcoin Cash proponents have been leveraging an NFT marketplace called juungle.net. The marketplace has a myriad of Simple Ledger Protocol (SLP)-based collections of NFTs for sale.
Bitcoin cash fans have been recently introduced to a new non-fungible token (NFT) asset market called juungle.net. The market allows individuals to purchase SLP-based NFTs with bitcoin cash (BCH), and the NFTs can be stored for collecting purposes.
At first, the Juungle web portal only had Waifu NFTs for sale, as the marketplace is still in its alpha development phase. Bitcoin.com's newsdesk reported on Waifu NFTs in an editorial that teaches people how to create a non-fungible token (NFT) asset by utilizing the Simple Ledger Protocol.
In that guide, Bitcoin.com discussed a website called waifufaucet.com, a place where people can obtain free and unique NFTs of 2D anime art that's been minted on the BCH chain. Waifu NFTs are being sold on Juungle, alongside a number of other BCH-based NFT collections.
However, there is another guide, that teaches people how to create an SLP-based NFT that displays artwork on the SLP explorer and the Juungle market. For instance, on March 23, the read.cash author Bien explained that he was recently inspired by the guide written by the user @videogamedana. The guide written by @videogamedana shows users how to create NFTs with artwork that will be supported on the Juungle platform.
Bien detailed how he created a collection of NFTs called "Artcoin," which is inspired by the look of a postage stamp. In the read.cash blog post, Bien describes all five designs he created and links to where his Artcoin NFTs are hosted on the Juungle market.
The marketplace's list of SLP-based NFT collections now includes NFTs like Photoyshop, BCH.games, Zombie, Micaharts, Oilpicture, JLV, Lucivay, Torch, and more. Registering to use the Juungle NFT market is easy. All it takes is an email address, a password, and you need to verify a confirmation email.
The alpha version of Juungle gives a user a deposit address to add NFTs, and a customizable profile. The marketplace warns that users should not deposit bitcoin cash (BCH) to this address and stresses to only send NFTs to the deposit address.
The wallet gives the user a balance in bitcoin cash (BCH), if the owner sells any NFTs using the Juungle NFT marketplace. Users can get Juungle email notifications and subscribe to analytics as well. There is also a support feature for those who need assistance with any issues while using the Juungle market.
Juungle also has a FAQ section that can help people get started with the NFT marketplace. Furthermore, developers can get insight into Juungle by reading the market's published documentation. For now, wallets that support SLP-based NFTs from the Juungle market include Zapit, the Electron Cash (SLP version), and signup.cash.
What do you think about the latest NFT marketplace for BCH-based NFTs? Let us know what you think about this subject in the comments section below.
Bitcoin Cash proponents have recently been introduced to a new noncustodial payment processor called Prompt.cash. The platform provides merchants with a simple way to accept peer-to-peer electronic cash payments and can also generate a new address per invoice.

A number of innovative applications that leverage the crypto asset bitcoin cash (BCH) are on the horizon. In recent times, BCH fans have been introduced to a newly created payment processor called prompt.cash, a platform that allows people to accept BCH in a noncustodial fashion.
The main developer behind the project is a well known programmer who goes by the name Ekliptor. The dev has 16+ years coding experience and has been working with bitcoin cash payment systems for years now. The engineer also developed cashtippr.com, a WordPress plugin that allows website owners to receive instant tips.
Speaking with Bitcoin.com's newsdesk, Ekliptor told us why he started working on the prompt.cash noncustodial payment processor. "My experience from this has been that many people in the BCH community asked for a simpler solution and one that they can also put onto non-Wordpress websites within a minute by just copy and pasting," Ekliptor said.
"Custodial payment processors (our competitors) are like a bank," the developer added. "They own the money they receive and then later the merchant can withdraw the money into his or her own wallet (or not in case of compliance issues or a security breach). Our noncustodial processor works like 'Software-as-a-Service' instead of being a bank. This means every payment arrives directly in the wallet of the merchant. We can not freeze or hold the merchant's money as we are not part of the transaction," he added.
Ekliptor continued:
And all this in a more convenient and even easier setup than custodial processors without the usual banking/KYC paperwork.
The Prompt.cash project also has a Flipstarter fundraiser going on right now, as the developers are raising 390 BCH. The Flipstarter description details that the team's Prompt.cash platform is the first hosted noncustodial Software-as-a-Service payment processor.
"[The application] allows integration without bureaucracy and enables our merchants to integrate us within minutes," the Flipstarter descript explains. "We already have a working payment processor implemented in Go, following best practices and code standards."
So far, the Prompt.cash project has raised 206 BCH or over $100k worth of bitcoin cash. Bitcoin.com's founder and angel investor, Roger Ver sent the project 101.15 BCH. The popular digital entrepreneur Kim Dotcom sent the Prompt.cash project 100.8 BCH. "Exciting times," the creator of the content monetization platform K.im added in his comment.
The Flipstarter also notes that the Prompt.cash application has been live for about a month so far and signed 50 merchants to-date. Bitcoin.com's readers can read more about the Prompt.cash project and the Flipstarter fundraiser here.
What do you think about the noncustodial payment processor project Prompt.cash? Let us know what you think about this subject in the comments section below.