In February 2020, a few weeks before the Covid pandemic would wreak havoc on his global theatre empire, IMAX CEO Richard Gelfond flew to St. Barths to visit his friend Daniel Nadler. Nadler had founded the AI-powered fintech start-up Kensho in 2013 and sold it to S&P Global for $550 million in 2018. After a few years in S&P's executive ranks, Nadler stepped away from the business world and was living the island life. 
But island life for Nadler—who, while getting his Ph.D. in econometrics at Harvard, launched Kensho and published a book of poetry—has little to do with hammocks and coconut cocktails. Nadler's new hobby was creating AI-powered art under the pseudonym Daniel Wallace. His works used machine learning to develop ultra-high-definition images of people who never existed, and life-like 3D printed statues. The technology needed for his new hobby didn't yet exist. Inspired by George Lucas's Industrial Light and Magic, Nadler started a visual effects firm called Maximus to develop tech tools.
At St. Barths, Nadler shared with Gelfond his ultra-high-resolution art. "Rich asked, 'that thing you just showed me—do you think the tech could display the Superbowl in ultra-HD in real time?" says Nadler. The beach trip quickly turned all business. 
"It was obvious that the combination of IMAX technology and where the world was going would we had so much in common with Daniel and what his team was doing with artificial intelligence," says Gelfond. "We figured out we needed to be in business together."
The business is IMAX AI—a joint venture between IMAX and Nadler's Maximus studio. The company will combine IMAX's technology, data, and image library with Maximus's machine learning to build TVs that can display live programs, streaming shows, and movies (both new and old) in ultra-HD. Although Gelfond and Nadler revealed the new company today, they remain tight-lipped about details on product and launch dates.
Gelfond and Nadler do say that IMAX AI will soon develop two core products. The first will be a brand of ultra-high-end TVs for wealthy home theatre customers. The second will be software they can license to brands like Samsung and LG to deliver true HD to the masses. "It's the Nvidia model," says Nadler, referencing the computer giant. "They make the highest-end supercomputers you can buy, and also the chips that power machines for everyday users."
While you might have a high-def, 4K TV—most series, sports and films you watch on it are shot and broadcasted at a lower quality. Filming and editing in 4K is expensive and time-consuming—the same goes for remastering older films.
IMAX AI aims to use its computing power to instantly enhance the picture quality of any content—just as your smartphone software can automatically improve a photo. How? By training algorithms on millions of and images, the IMAX AI software can identify objects and smooth and sharpen video by filling in the blanks. To oversimplify it—it's a high-tech version of filling in missing puzzle pieces in real-time.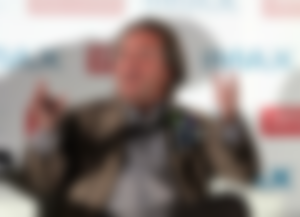 For IMAX's Gelfond, the joint venture is crucial to diversify his product and expand his brand from the theatre to the home. It's a plan that's been in the works for a while—and made ever-urgent as Covid-19 creates massive rifts in the entertainment landscape. (Shares of IMAX plunged more than 60% in March 2020 but have recovered to pre-pandemic levels with a market cap topping $1.3 billion.)
Nadler says that AI software is only as good as the data you feed it. One of the reasons he sold his fintech start-up Kensho to S&P Global was because the financial rating and research firm had the best economic datasets in the market. He sees the same opportunity with IMAX. "This eerily rhymes with what we did at Kensho," says Nadler. "IMAX has spent decades building the world's primary brand for ultra-high-definition images and image data."
When the image data and AI software turn into a marketable product remains unknown. "It's not sometime in the distant future. We're two hungry people that see an opportunity right now," says Nadler. "The moment has been created by COVID, by streaming, and by people changing how and where they spend their time. We're going after it all with deliberate speed."
I lead the Forbes CEO Network and cover leadership, technology, startups, entrepreneurs, investing, and finance. Write the Forbes CEO Newsletter. Form