The Aftermath of Getting Scammed: What's Next?
I shared with you days ago how I was fooled and got scammed. It's definitely one of the phases in my life I would never forget. Truly an unforgettable one. One for the books, but on the negative part of my story. Dang, it costed me $600 to learn from it.
The was the longest 6 pm to 8 pm in my life. I was so into that moment where I don't even know what to do after realizing everything. I cried in desperation. This will take time for me to recover.
But what about the money I spent? Let me tell you how I was able to contain this stupid problem, that wouldn't have existed if I didn't let myself fall into their hole. Then again, there's no point crying over a spilled milk. I've got to move on and be vigilant more. Although, this careless mistake will haunt me forever.
When I was on the verge of desperation, I have exhausted and emptied my wallet to suffice what the scammer was asking for. I have shared with you that at first, the task was only worth $60 but to my surprise, there were hidden details that they have had arranged and cornered me, as their prey.
My aunt's savings were around 4900 pesos. Like I said, I emptied everything on my wallet. I even withdrew an amount from my crypto wallet to add from it. Such a fool. I gave them 4900 pesos at first but the task is worth 10000 pesos so I have to transfer more which is 5100, to be exact.
Oh, I can't get over how well they have manipulated me. To my defense, every human being has its own vulnerable and desperate state in their lives and I must say, this one was my most so far.
I nervously and stressfully chatted my cousin on Facebook messenger. I was actually preparing our dinner already at that time. Do you know that feeling of being so nervous that you are very looking forward to what's gonna happen but you don't wanna see it? I was trembling and got numb the whole time.
I chatted my cousin and indeed, she lent me 5,000 pesos. I even promised her to pay her right away after I get my payout. Damn, I'm such a stupid motherf****. After that scam, I paid her the next day. I made a promise to her so I should fulfill it.
As much as possible, the last thing I would do to a person is to break their trust. I should keep my word and I don't want that to happen. I know how it feels being betrayed. So I paid her back the next day by withdrawing mom gave me days ago. Funny how that allowance mom gave to me was spent making up for a damn, careless mistake. I'm out of words.
Ever wonder how I managed to send that big amount of money to that scumbag? Well, I desperately chatted my college classmate when I found out that my account was put on hold. Damn, this reminds me how so stupid I was.
Why did I let this happen for goodness sake! This will be the last article I'll be writing about how I got scammed. I don't wanna remind myself how heartbreaking this was for me but all I'm certain with is to keep the lesson I learned from this terrible experience.
So I borrowed money from Neil, a good friend and classmate I had in college. Just after minutes of talking, he wired me the money. Again, I promised him that I will pay him right away after I get my payout. But it turned out that I was scammed so I'm doomed.
How did I manage to pay him back?
Well, grandma has her ATM with me. Her account holds more than 40,000 pesos. That money on her bank is her survivorship's pension. That's from grandpa's when he died.
Embarrassingly but thankfully, I withdrew 20,000 pesos and paid back my classmate. It gave me that sense of relief because I kept my promise to my classmate. Like I said, I don't want to betray a person because I know how it feels to be betrayed.
So that leaves me to tell grandma about what happened. I nervously told grandma about it and she can't really fully grasp my explanation as expected. To her understanding, I just borrowed her money, that's all. But then, she told me to just leave it and not pay her back.
I told her that I will pay her back little by little, even if it will cost me years of paying her back. I withdrew that money filled with guilt and regret. I should own up and take responsibility of my stupid mistake.
---
So now, I'm overwhelmingly broke. I don't even know how to bounce back and recover from this terrible experience but I'm still grateful to God for giving me a fallback from what happened. I still managed to find a solution even with desperation.
I'm also very thankful to the people around me who reassured me that everything's gonna be fine. I cried when I shared my experience with mom. She listened the whole time and never judged me to how I got into that situation. She comforted me with full of understanding and reassurance.
To my bro @wrabitter, the first person I talked to after the incident, thank you so much bro. I had no one to talk to but you made yourself available to comfort me.
It is crucial to have reassurance from the people you rely on. It gives you hope and comfort that you will never be alone.
---
Talking about taking action of this scam, I texted the phone numbers of the accounts I sent the money to. For your reference, here are the phone numbers that you should watch out for: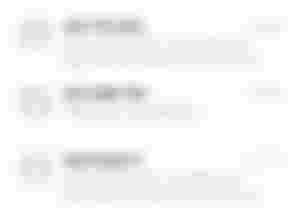 Account names are under:
Jane Grace Ojeda
Marcelo Silva
I texted these numbers and as expected, I never got a respond from. It is unsure that these numbers still exist but at least, just for you guys to be aware of. I am also thinking of reporting these to the police or NTC.
---
Thanks for reading.
Keep safe everyone!