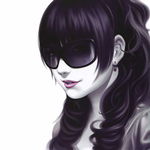 I am delighted to bring to the POB community, our first two awesome community imagined #Pobpunks NFTs.
The first one below and in the thumbnail courtesy of and Imagined by @samsmith1971 meet Jane Austentatious looking all sweet and sexy yet brilliant and with intelligence incomparable in her field, she has a big blue brain and pink hair bow, she is the fictionalised Alter ego loosely based on the Author Jane Austin and presented in this wonderfully crafted story by an amazing up and coming hive author we are going to hear a lot more from in the future, read her amazing creation The curious tale of Jane Austentatious literary pobpunk with sass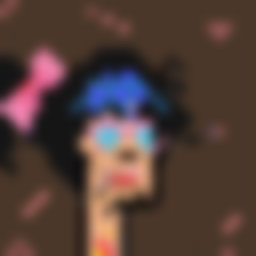 The second fictionalised Pobpunks character brought to life is The Woke P.I.M.P in the image below looking rather dapper in his purple hat with a feather and bowtie imagined by @nevies in his at times crazy story, but hey they are fictionalised after all so they can be whatever the author wants them to be, only Pobpunks Pimped.
Read his weirdly wonderful fictitious story Meet Pobpunks NFT character the woke pimp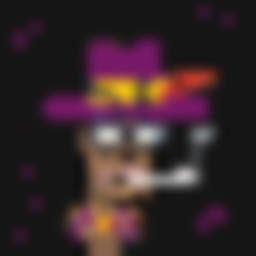 Both of these NFTs will be inducted into the Pobpunks Hall of Fame making Pobpunks a truly unique community based NFT project.
Would you like to see your very own Pobpunks character brought to life before the official launch in the New year, well you can throughout the month of December by writing a post about that and publishing it in the POB community.
To find out more on that and the rules to follow read THIS POST
These two specific NFTs will be gifted to the two authors of the stories created above on launch, however in the mean time a copy will be minted on atomichub.io to allow some instant gratification for their amazing work.
Pobpunks Giveaway Update
I was going to host another Pobpunks giveaway Tonight but atomic hub is down in my area, maybe it's a Wi-fi issue, I am not entirely sure, so I will do this Tomorrow if it is back functional then.
Also the Vincent Van Vybrainium NFTs will be distributed for last weeks giveaway, Tomorrow also, Apologies for any delay, these will be sent as soon as viably possible.
Previously minted #Pobpumks NFTs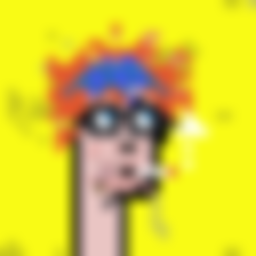 Alfred Einstein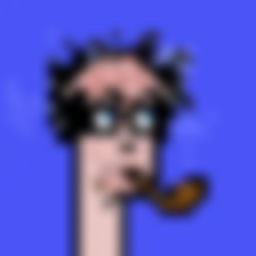 Nicky Tesla
AND............
Snoop Doge
Final Notes:
If you would like me to tag you in future NFT Updates and giveaway posts let me know in the comments below, I will be happy to do so. or if your would like to be taken off the list also let me know
Here is a list of previous participants and some friends that requested a tag, that might like to grab one or another free NFT @samsmith1971 @djjourneyman23 @vikbuddy @alovely088 @wrestlingdesires @chincoculbert @funshee @mayorkeys @heskay @subidu @esperosh1ve @khaleesii @young-boss-karin @samostically @b0s @princessj190 @wrestlingdesires @ifarmgirl @andy-plays @doziekash @ozohu @baned
If you are an original content creator and would like to earn additional tokens for your work or just make some noise, here are some links for platforms I currently use and post my content on, if you would like to join my network of like minded people that support each other on various platforms, feel free to drop me a message with your user name for each platform, we can be stronger together, supporting one another on this crazy journey in the Metapheric verse, I use the same name @jaxsonmurph or @Qjax on each of these platforms and have the same image, which makes it easy to find me.
Useful Links
Disclaimer: Some links are referral links and I may earn a little crypto when you use my link, others are not, but all beneficial for content creators seeking to earn alternative cryptocurrencies.
Read.Cash
Noise.cash
Torum
Den.Social
Carbon
Proof of brain
---