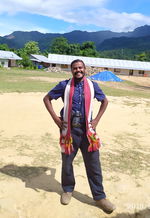 Many people have this question regarding prayer, or they don't know how to pray. But what I've come to experience is that prayer is just another conversation with God. Prayer is talking to God just as we talk to our friend. Jesus wants to be our best friend. So, the simple definition of prayer would be, a conversation with God.
The apostle Paul instructs is to"pray without ceasing." Initially I used to wonder what they actually meant. Because the times we usually prayed was before meals, during worship or in church. The idea of praying without ceasing never really stuck me. I wondered how the apostle Paul could expect us to be on our knees or with our hands folded and eyes closed without ceasing. It was quite impractical for me. But over the years, I thank Jesus for opening my eyes to the beauty of prayer and even one of unceasing prayer.
Like I mentioned before, I used to think that only a specific posture and method was to be used for praying. While those are both biblical and appropriate, one does not always need to pray like that. To be able to pray unceasingly, one needs to be having an attitude of constant communication with God. God always hears our prayers although He may not always answer them in the way that we want.
Jesus actually gives us the model prayer in the passage which is commonly known today as the "Lord's Prayer." When the disciples aked Jesus to teach them how to pray, He answered them and taught them how to pray. In it, Jesus begins with the Adoration of the Father in heaven. Our prayers are to be directed to the Father in heaven and must begin with adoration. The next is Confession, here we confess not only our sins but can also intercede for others just as Daniel prayed and interceded for the sins of his people. We ask for God's forgiveness merited to us through the blood of Jesus Christ's death on the cross of Calvary. The next is Thanksgiving, where we thank God for all His blessings and Providence. Thanking God allows us to realise all the wonderful things that God has done for us and gives us an opportunity to show our gratitude to Him. A final point is, Supplication or the requesting of our needs from God. Putting this towards the end of our prayer allows us to put God's goodness and glory and Providence ahead of us and allows us to put ourselves last. Indeed God knows all that we want and need even before we ask Him yet God instructions us to ask Him and entreat Him for His blessings on us. Many times our prayers are not answered in the manner we want them to. But if we wholly submit to God and are willing to depend upon His plans for us, we will realise that what He has had in store for us is always better than what we thought was best for us at that moment. Many times, much later, we realise and thank God for not answering our prayers according to our own will after we see His plans unfold for us. When we close our prayers we are instructed by Jesus to ask the Father in Jesus' name and whatsoever we ask will be given to us.
While this may be a good method of praying, we know that we cannot always follow this method because there are times where prayers are spontaneous and are needed to be done in an emergency - for example, a prayer for help like that of Peter when he was drowning. Some prayers are long while others are short yet God hears them all.
An interesting thing I recently learnt about prayer is that when we pray, we don't really know what we are asking for. Therefore the Spirit prays for us with groans and knows the mind of God. When we ask for the Holy Spirit, the Spirit inspires in our minds what is in the mind and will of God and allows us to pray in accordance to what Gods will is for our lives. Thus, our prayers are transformed and we pray for God's will to be done rather than our wills to be done. This not only transforms our prayers but also transforms us. As many have said, that the purpose of prayer is not to change the heart of God but to change out hearts.
Another very good way to pray is to do it while fasting. Jesus Himself fasted for 40 days before His ministry. The disciples regularly fasted and prayed. Fasting doesn't only have to be the abstinence from food or water but can also be abstinence from social media or television or certain secular pleasures. All these help us focus more on God and help us really understand the reason of our prayers as it draws us closer to Him.
The Bible is clear about something though, the main reason behind unanswered prayers - the Bible says that if we harbour iniquity in our hearts, God will not answer our prayers. Also, many times we ask out of selfish motives. Such prayers cannot be answered positively by God. We are to confess our sins and ask for forgiveness and leave our sinful ways behind. This will open the doors for God answering our prayers.
Once we do this: have a constant attitude of communication with God, confess and ask for forgiveness of our sins and pray in accordance to the will of the Father through the Holy Spirit, our prayer lives will truly be transformed.
There are many times in my life when I really didn't feel like praying at all. Especially because I felt that I was too unworthy or I just didn't have the mood to pray. If you have experienced this before, I can share your dilemma. But this is the right time that we are to pray all the more to God. We should ask Him to remove our hearts of stone and give us a heart of flesh.
As humans, it is quite difficult for us to be inclined to prayer. But we must train ourselves and surrender ourselves to God. We all stumble in our Christian journey but it is important to remember to get back up and ask for forgiveness and move on with Jesus. I thank God that He has always been there to pick me and welcome me home like the prodigal son every time I returned to Him.
In my journey of learning more about prayer, I realized that it is good to write down specific prayer requests and to maintain a prayer journal. As you journey through your prayer life, you'll be able to see how God has answered your prayers and led you along the way. Of course not every prayer mentioned would be answered positively but you will see the mercy of God in those unanswered prayers too if you're willing to allow God to show you His will for your life.
While practicing these points and methods of praying, I realized that my prayers became less shallow. I could constantly keep myself in touch with God throughout the day. I began to pray and accept His will in my life and also was more aware to the promptings of the Holy Spirit. This truly transformed my prayer life and transformed the way I prayed.
More recently, I have begun setting aside some time just before I sleep to be able to speak candidly with God. I speak to Him literally as one would to a friend but not without the respect He deserves. I share with Him my thoughts and actions and feelings that I had experienced though the day. I tell Him how I felt about things and how I expected things to have gone that day. I also spend some time in silence just to listen to His voice.
This has been a transforming experience for my life and my prayer and I hope that it transforms your life and prayers too.
Sponsors of JackOfAllTrades