Violent Night
Dec 5, 2022
The annual barrage of Christmas movies in recent times is such that it is difficult to find a Christmas classic, one of those films that you have to see on "such important dates." What was the last title that reached that place among the public? Love Actually (2003), perhaps? If you are like yours truly, you may have little sweets, bits of film nougat to nibble on between classic and Christmas classics, such as Krampus (2015) or Shazam! (2019).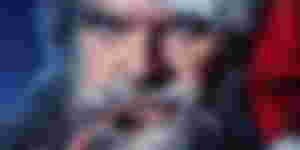 Those responsible for Violent Night seem to realize all this and offer light and hooligan entertainment with no intention of becoming the Great Christmas Movie. With David Leitch helming the production, action fans know they're in for a festival of cartoonish ultraviolence and stunt display by a large team of top-notch stuntmen (after all, Leitch is dedicated to that).
Norwegian director Tommy Wirkola (Nazi Zombies) isn't quite as gifted at shooting action as David Leitch, let alone his frequent partner Chad Stahelski, so while it's not nearly a disaster, what we have here is fights and gunfights. lackluster due to being developed with low lighting and an excess of assembly cuts that, possibly, respond to the needs of a tight budget. Wirkola makes up for all this with a display of gory moments in which Santa Claus (David Harbour) acts more like the killer from the Silent Night, Deadly Night saga than John McClane.
The film combines raw action with black comedy and good Christmas sentiments, elements that would rattle if it weren't for the overall lightness of the product. The story is simple: an alcoholic and unmotivated Santa Claus (umpteenth Bad Santa in what is becoming a subgenre) is trapped in the mansion of a heartless millionairess (Beverly D'Angelo in Bette Davis mode) and her repulsive relatives. Among them, a not-so-repulsive offspring (Alex Hassell), who wants to win back his wife (Alexis Louder), a stranger to the world of millionaires, and his adorable daughter (Leah Brady), breaking ties with the matriarch. and his brothers. As expected, a group of well-trained criminals, led by "Scrooge" (John Legizamo), a villain allergic to Christmas, hijack the mansion with the intention of seizing the contents of the safe. Santa Claus, out of love and a sense of duty towards the girl, decides to fight the bad guys.
At one point, Santa takes a Blu-ray of Die Hard from his sack, while the girl deploys a series of traps inspired, she declares, by Home Alone. That's how sincere everything is. With much of Die Hard and almost even more of its first sequel, the viewer knows what he is going to face with no major surprises other than the use that Santa can exert of his magical powers (whose operation he himself does not fully know) to slaughter criminals.
Despite the gory deaths, usually executed with Christmas decorations, the swearing and adolescent hooliganism of the film, the sentimental part works well thanks to the apt performance of David Harbor and, what the hell, the rest of the cast, no matter what their characters or the plots displayed are pure cliché.
As a note to those who are very fond of action movies, it is worth noting the funny and self-parodying supporting role of Cam Gigandet, "star" in the little hit video store Breaking the Rules (2008).
On Christmas Eve, a group of mercenaries sneaks into the property of a wealthy family, kidnapping all the members. But they don't count on the least expected opponent to face them: Santa Claus (David Harbour, Black Widow, the Stranger Things series) who was passing by and is about to prove that he is nothing of a saint.
See you tomorrow guys!