What about launching an NFT giveaway!!
Hi folks, recently I've posted a short article about the NFT market, and how it works. I just wrote down to you some things i found interesting in the NFTs, you can find the post in my profile it is the last post I've submitted.
However, guys i told you it was easy to be an nft artist and how easy you can create an Artwork, how easy can you create a collection and how to generate it. First of all it seemed complicated and difficult but eventually after getting deeper into the market, i found it possible for everyone.
Before we get into the topic let me explain few thing for you:
NFTs can be anything, music, art, paintings, digital drawing ... mhm digital art is the most popular there

For digital art nfts you can start creating through any program or software or app(apk/ios) the simplest and the easiest one is "Medibang paint " there are many videos and articles on the internet that can show you how to create an NFT

Based on my personal experience, you can generate you NFT collection throught this app Launchmynft.io it is a website that can generate over 9000 art piece and the best part is the metadata is included (100% recommended) you don't have to use codes or complicated programs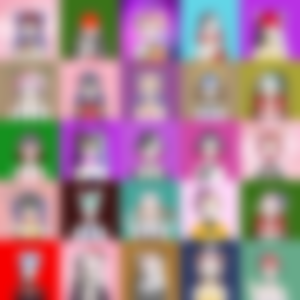 I've finished my collection today, it's quite small just 4000 art pieces, but it can be evolved to 10,000 art pieces. It is inspired from Imaginary Anime characters and all of them are girls (that's why my collection is named @CryptoCutieNFT lol) yeah, but i already said that it can be evolved. However, in my collection there are common level pieces, super rare pieces and one UNIQUE piece.
The truth is now after finishing the collection i really want to start a giveaway or should i call it airdrop, i guess it's rhe same... i will be giving 1500 NFTs for random valid participants
1479 common NFTs for 1479 valid participant

20 super rare NFTs for 20 valid participant

1 lucky participant will the chance to get the UNIQUE nft

( All the winners will be selected randomly)
It's quite easy, you only have to fill this form : https://docs.google.com/forms/d/e/1FAIpQLSdNE5ol73--TUwNIBRByyUNZeepP3o3PV66OnO3xT9BHbcW3w/viewform?usp=sf_link
These are the tasks, really simple
Follow our twitter

Like, retweet & tag 3 friends

Follow our Instagram