My Dream
It was night time, the sky was full of stars, asked your way to the shining shining stars on the bright sky. There was a slight tingling in the air, and the path was very quiet and peaceful. It was quite late on the go, I realized that the wind was holding back. When you look at the sky, just two of the many wires appear to be visible. I thought the way was gone. Somewhere far away, the fire appeared, went to the fire to ask the way. As it got closer, the fire bonfire grew bigger. The air was very hot and was taking the form of a wind. It was just the last height. After that the scene was clear. The town was on fire, very fast, very high flames, and the heart was burning. The houses made of tanks had become ashes. Suddenly the wave that suppressed the noise rose, the water thrust that hit the town. Where are people? There was a scene faster than my thinking, changed in moments, innocent people were hitting hands, looking for support, drowning... Life was saved. From fire, even from water. Nothing hurt them, they were supportive, that's why people left to die. I felt a bit behind me, Wolf... I ran to the forest, the scorching sunshine from the high trees burned the face, I was thirsty, the thorns were chewing in the throat but the river was dry. The voices of the animals in the forest were so loud that my ears rang. I could not guess which animal is at a distance. Blood, yes a cloth was hanging from the tree, wrapped in fresh blood, like someone's arm was cut off. Something hit my head....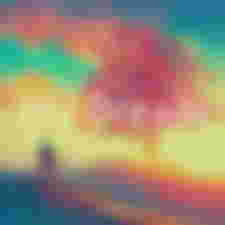 Something hit my head, like someone hit it with a hit. But why hit me? The closed eyes answered that we have probably known some truth.
When the eye opened, he found himself in his room. Paper scattered everywhere, but there was only one paper on the table in front of me, the title was written "my dream". And when you pick up a pen to describe your dream... My pen was silent.
My pen had been muted!
I hope you will like my article