The Mausoleum of Saint Sultan Shah Balkhi.
Shah Sultan Balkhi was a 14th-century Muslim saint from Persian. His name is associated with the spread of Islam in Sandwip and Bogra of Bangladesh. His resting place, the Mausoleum is a popular place in this area. Many visit there for their belief and many others just to see the place.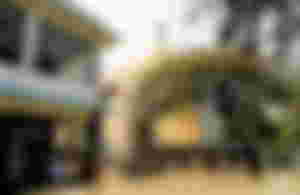 There's a mosque where people come from all over the country to pray. Also, as the place is considered very holy, people go there to meditate and be along with right-minded people. Many local people who believe in Sufism visit there regularly. What amazed me most is that random people sat or gossiped here and there. They seem very relaxed and not too worried about life. It gave me a whole different perspective on life.
The domed mosque makes the Mausoleum significant. Also as Shah Sultan Balkhi was a popular saint and part of our history, so people have a very positive attitude toward this place. If you want to know history, there are a few articles on the web, you can search by his name. I didn't get much information about him but came to know that, Saint Shah Sultan Mahisawar Balkhi was a ruler of Balkh in Central Asia. He was a dervish of royal lineage who came to the Mahasthangarh area with the objective to spread Islam among non-Muslims.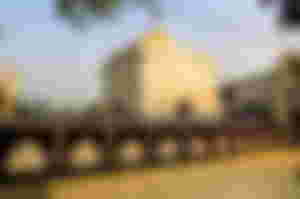 To be honest, many believe that praying on the Mausoleum can fulfill wishes, they also donate a huge amount of money here. So it's kind of a business for the Mausoleum authority. They own a charity. You will get to see many get free food from the place. Also, once every year there takes place a huge religious program for several days. Thousands of people attend there. The whole area becomes like a festival place. They help a lot of people, I agree. But the idea behind it confuses me.
Anyway, maybe that's just me and my friends. But this is not part of Islamic values but you can say a cultural thing.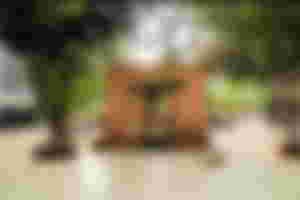 I visited there to see the architectural significance. We were a few friends there. The Mausoleum requires one to be in proper attire to go with the religious value. We enter, visit the place, and took our prayer but didn't donate to the Mausoleum.
Though there are not enough historical data about this Mausoleum. I came to know that, in 1719, during the reign of Emperor Farrukhsiyar, Khodadil built a large single-domed mosque near the shrine which remains in use today. The old building seems like standing by holding a lot of history. I'm not sure but people say that there are a few other saints that are buried there. The Tomb of Shah Sultan Balkhi is in a separate place. The place is very neat and clean. There were a few visitors as it was a work day. But during the weekend, I heard that the place gets full.
This place is right beside the 'Mohasthan Garh' which has a significant history. So, if you visit the Mausoleum, you can take a look at other historical places as well. I went there too. I will share about that place in the next post. Keep in touch.