Investing in Tech - a risky but hotshot segment of the market.
Investing in the technology market became the new hype. Especially after Meta hit the market everyone went crazy about tech stocks and company shares. I wouldn't hide my fear that I believe this market is too risky.
Mostly because of the changing nature of the market. On the other hand, it's also true that there's a high chance that if external factors go right, this sector can make multi-millionaires.
Another thing to note is that who live outside of the USA or from the other part of the planet; it's hard to make ways to directly invest in major tech companies like Microsoft, Apple, or Tesla. On top of it, our local tech market is not stable and not growing fast, there's not much option. So we are not getting the benefit from it the way globally we should. But, yes, there are many other ways to invest in the global market like cloud services.
Keeping this point aside, if I talk in general then I have to say that, Tech market is moving forward faster compared to other industries. And we all know the reason.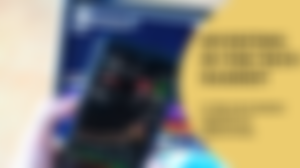 Photo: My own creation using Canva
The tech sector is diverse, from software to hardware to artificial intelligence. That's why there is no one-size-fits-all approach to investing in the sector. The market is always growing and changing at the same time. The risk and reward calculation also depends on these factors.
I came to notice the growing interest in investing in Tech Stocks. As the return of the renowned companies are high so it gives a good return. Another option is to invest in technology-based exchange-traded funds. Though investments in technology-based firms involve greater uncertainty because if you don't have the right knowledge about the market you may put yourself at risk.
Seeing the potential and risks of the market, I'm not considering investing in this market right now. Because the truth is, to do well in this sector, one needs to devote a segment of their holdings to tech stocks. Otherwise, it's not possible to make a good return.
Also, this market is highly influenced by stakeholders as well as investors. So if you are not a millionaire already, it's hard to tell if any window would open for you here. At least, that's what I understand from the market.
While no one can guarantee that investing in the tech market is a good idea with high returns, it's true that it has the potential. But considering all the risks and volatility in the sector it's suggested to gather knowledge about the market before taking any decision.
What do you think?
Thanks for vising my blog.