2023- The fall of the third world economy?
Now as we approach the end of 2022, the global community as well as the government is warning about the upcoming economic fall down. We were expecting the devastating effects of the pandemic and the supply chain gnarls to ease up. On top of that, the war increased food and fuel price and impacted inflation greatly.
Our local government is saying to be mindful of food intake because there would be a shortage in the future. I know this is not the situation in western and progressed countries. On the other hand, if we look closely at the so-called third-world countries then, it's clear that many have a shortage in reserves and wouldn't be able to afford/meet the import price.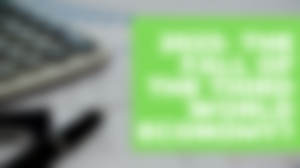 Photo: My own creation using Canva
Upcomg feminine?
When the population is huge, we have millions to feed, and only depending on domestic production can't be realistic. But if we don't have the reserve, and can't increase it, then there's a feminine waiting for us.
We saw oil prices, food shipments, inflation, and the continual presence of Covid and its variants create a "perfect storm" resulting in misery and deprivation for the non-combatant third-world countries.
This impacted every country but is obviously more noticeable in third-world countries from Asia and Africa. They don't make it in the headline, but if you look at the local news then you would understand we are living by holding our breath kind of situation.
Meanwhile, the global economy is bracing for an economic slowdown because of inflation. But to cope with that, they are rising interest rates for the loan-taker countries. This creates a huge problem for underdeveloped countries and now it's hard for us to even survive.
The food crisis and economic fall down are about to happen.
What do we need to do?
Our government is weak so is our country's economy. There's no fight back against global politics. Also, our politics is full of corruption and toxic power play they are busy with their own agenda rather than taking measures for the citizens.
This makes the situation worse and hard to do anything.
However, we can do things from an individual level best to back ourselves up. Like venturing into any business, building a side hustle, cost-cutting, etc.
The truth is we are not going to be rich, not in another 50 years. There will be a continuous struggle to meet our end needs. This economic condition will put us in such a situation where we will lose the battle every single time. The manpower is in our hands and that's the only thing that can save us.
So hold tight and make your own plan. The government or the global community is not going to do anything.
Thanks for visiting my blog.