Danyang-Kunshan Grand Bridge, China
Danyang-Kunshan Grand Bridge was opened on June 30, 2011. The total cost of the project was $8.5 billion (U.S. dollars). The construction of the bridge took 4 years to be completed with a workforce consisting of nearly 10,000 people.
The main purpose of the bridge is to solve the railway traffic in the area. It is sturdy enough to withstand natural disasters like typhoons and up to a magnitude 8 earthquake, and also direct impacts from naval vessels that weigh up to 300,000 tons!
This bridge hosts a train line that runs between Shanghai and Nanjing in East China's Jiangsu province.
For most of its journey, the Danyang-Kunshan Grand Bridge follows the flow of the Yangtze River. A 5.6-mile (9-kilometer) long section of the bridge spans over the open water of Yangcheng Lake. This section alone required 2,000 support pillars.
A total 450,000 tons of steel was used to construct this impressive structure.The rail transport segment of this bridge named Langfang–Qingxian viaduct covers a distance of 70.8 miles (113.9 kilometers).
This bridge is also considered part of the Beijing-Shanghai High Speed Railway. Since completion of this bridge, travel time from Ningbo to Jiaxing has reduced from 4.5 hours to just 2 hoDisk.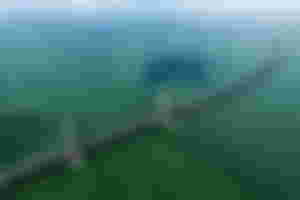 If you like my article, don't forget to leave -
*Like
*Comment
*Subscribe
Plz always support me because your one valuable comment inspire me to write more new articles.
Thank you so much all of my R.C friends 😘😘😘