Albert starts his journey towards Panama city at 10.30 AM in the morning without Millan this time. He is driving himself. The bright sun light is irritating his dark blue eyes, so he puts on his sunglass. In spite of wearing glasses he is driving very carefully.
At 9.00 PM he reaches to the booked hotel named Santa Maria, the golf resort at Panama City. From reception he picks up the key of his room and then enters inside the lift. Pressing number 9 on lift he gets his phone out of his pocket to check if there is any missed call.
There were 10 missed calls from his father which he got at 7 pm. His face shows no expression at all since the strong bonding, love and care are totally absent between them. Ignoring his father's call Albert dials Finn's number. Finn is his childhood friend. After ringing five times Finn picks up. With a gentle smile Albert says,
''Hey Finn! Where are you?"
''I am with Celvia, my new girlfriend. Why man?"
''I am in Panama now, will be here for couple of months."
''Are you sure? How long are you going to stay here?
''Not sure. It can be one or two months or even three months or for the rest of the eternity."
A loud laughter is heard which irritates Albert. Finn again says,
''Are you mad Albert? What happened to you?"
''I just wanna live alone. I am disturbed of my life….can't live like that."
His words sound gloomy to Finn. Finn breathed deeply. He again says,
''Why don't you take Lisa as your girlfriend? You will feel better."
It seems ridiculous to Albert. In a tone of contempt he says,
''Love is a Domination to me. But you know I like to dominate. It seems like your partner will always be ready to dominate you but I can't tolerate this."
Finn again breathed. He says,
''You are wrong. Love is not domination it gives good feeling and reason to live."
''It's all nonsense!!"
Finn changes the topic and says,
''Where will you stay in Panama city?"
''Oh! Its hotel Santa Maria with a mesmerized Golf club."
''Ok, dear friend I have to go. Celvia is calling me."
''Go. Domination has started over you."
Finn puts down the call with a little smile.
Albert gets in to the room. The room is big and air conditioned. He unlocks is luggage, gets the t-shirt and trouser for shower. After a hot shower he calls in the reception for dinner. A room service boy arrives in a minute with dinner and asks,
''Sir do you need anything else?"
''No."
''Sir we have gorgeous girls. Do you need one of them for the night?"
''No. I am ok but you can send a champagne with ice."
''Sure sir."
The boy leaves. Albert passes the night with the whole bottle champagne.
On the other side Arlando looks little upset because of Albert. According to him, his son is ignorant towars his dad. Arlando sips his glass of red wine and stares at Katherine who is wearing a red gown with thin straps. He feels attracted towards Katherine because she looks so gorgeous in this dress.
Putting his glass on the tea table he approaches towards Katherine. Katherine touches his old cheeks with her soft hands and kisses them with deep love of her young heart.
Arlando becomes too attracted towards Katherin. Being irresistible, he starts kissing her soft lips and embraces her in his arms. Than he pushes her on the direction of the bed room.
Katherine whispers in Arlando's right ear and says,
''Take me honey. I am all yours."
Arlando starts loving her with all the depth of warmth.
In the morning Albert wakes up and takes shower. Getting ready he goes out to cafeteria for breakfast. After having breakfast he gets inside his car and starts driving out for Penscola beach. The beach is famous for it's white sand and sun rise. Albert wears his beach suit and comes near to the sea. There are some couples passing time together. They are cuddling each other. Albert laughs ridiculously and looks at the sun. Suddenly he sees someone who gets his whole attention other than everything. His heart stops beating for a moment. A tall girl in her beach dress is standing like a princess of the sea. Her brown long hair is dancing as if they are dancing with soft breeze happily. The girl spreads her arms and raises her face a little. She than closes her eyes enjoying the cold breeze with her soft breath.
To be continued...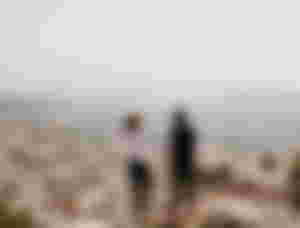 If you like my article, don't forget to leave -
*Like
*Comment
*Subscribe
Plz always support me because your one valuable comment inspire me to write more new articles.
If you would miss the 1st part of the story, plz read it before. I am giving the link for your enjoyment. I think you will like it.
https://read.cash/@Humaira/his-forbidden-love-264aabb8
Thank you so much all of my R.C friends 😘😘😘