Eating is an activity that we humans do at least three time a day.We live in a world where the variety of food is immense,and we are responsible for what we eat and how the food that we eat is going to affect our bodies.
The purpose of this article is to compare the difference between eating fresh food instead of frozen food.
How could there be anything better than fresh? That's the question that baffles people when it come to choosing fresh or frozen food.In general, it's true that fresh fruit and vegetables,direct from harvest,are highest in nutrients as compared to the frozen ones but there are scores of people who believe that frozen veggies are much safer and cleaner to eat and are easily accessible.
The most notable difference between these two kind of foods their flavour.Fresh food has great flavour because it is natural and is kept in natural conditions.
Frozen food however,looks a lot of flavour because there are chemical products or preservatives added to them.
Do you know vegetables lose approximately 75% of their vitamin C after only a week in the fridge.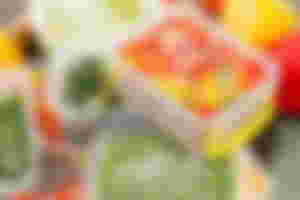 When comparing both types of food,it is sad that they differ with reference to the health factor.Frozen food loses some of the original nutrients when stored.Because food has to be tinned or packed,therefore different preservatives are added to prolong the shelf life.Frozen food has to be consumed within a deadline otherwise it turns stale and harmful for health.On the other hand,fresh food is fresh and has essential nutrients,all one needs is to wash,clean,cook and eat! There are strong supporters of fresh food who believe that there is no substitute for fresh,home cooked food.
Yet difference between these two types of foods is the cost and its availability.Frozen food is much more expensive than fresh food.Consumers not only have to pay the price of the food they buy but have to pay extra for the packing and the stores they are sold at.Frozen food, most of the time is available at only exclusive store who naturally charge more from consumers.Fresh food is easily available,at every nook and corner of the street and sold at people's doorsteps by the age old 'thelay wallas' and of course at an affordable rates.
As we can see it comes down to a personal choice,fresh food or frozen food! The choice is based on the time each person has, the money and the importance the person gives to nutrition and health.