Karaoke nights!
Hello Hello I'm back from life! And these past few days from me have been really full of life lately. My sisters kept telling me to enjoy my birth month and the fact that I'm not actually employed yet, but I can't really seem to enjoy unemployment because I like having the money to buy things I want and money to pay the bills (though I'm doing that now but still, I want to save up more crypto and not use them to pay for my bills)
Anyways, last night, my sisters dragged me to a nearby KTV place since wecouldn't remember the last time we ever went to one, and because we have been planning to go to one since the COVID restrictions lightened up here.
So far, the KTV place was pretty okay, everything was sanitized and there were replaceable mic covers so that took a load off of me, and it allowed me to lighten up a bit, as my sisters kept telling me. We actually had to argue over what food to get when we got there because we were torn between rice and finger food, but since it was an extended birthday celebration, it was my call and I chose finger food since I was too lazy to eat rice again.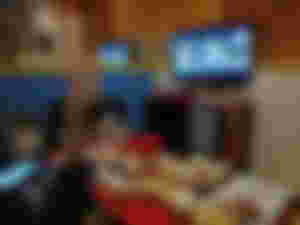 So this was the food we had and I was surprised with the extra platter of fries but the staff said it was a birthday treat so there was no need for us to order again.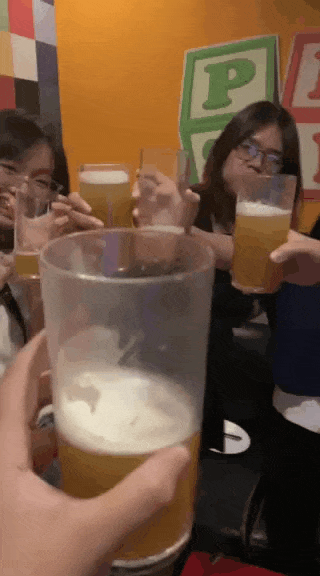 This is a little toast we did to start off the night. And that's just Iced tea! No liquor for us since we still had a minor with us. It kind of sucks that our youngest is still only 13 so we can't really have liquor together yet, and mom said she'll lift the liquor ban in the house when this kid turns 15-16 so that's a year or 2 more of waiting. Though with how hyper we all are, I don't think we even need the liquor to have fun since we seem funnier when we're all just high on sugar and not alcohol.
We had a couple of smoothies though and that kind of fueled us for the entire night.
After that toast, we just started singing one by one. If only there were more mics but oh well, 2 is fine, we just shared
This was when we sang "Super trouper by ABBA" and we even remembered the cute dance moves from the Mamma Mia movie.. It was cute! and mom just laughed. The staff that assisted us laughed because she thought we were a strange bunch that sang mostly old songs from the 70s-90s, but who doesn't like the classics? But i guess since we're all pretty young, it would make sense that we listened to newer songs. I think this music taste of ours came from being raised by our grandparents and our single mom who's way too deep into grunge. No complaints though because I think we have a much more diversified music taste than most.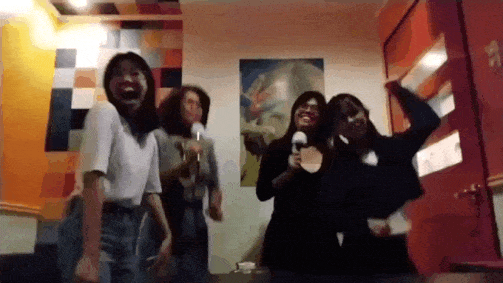 This is when we sang Super Bass by Nicki Minaj and I loved that in sync dance moves XD it was so cute! and we also sang a lot more pop songs where we danced but this clip is definitely my favourite. Can you spot me in the little black dress?
3-4 hours in there was clearly not enough for us, but the fact that we all had sore throats by the end of the night was a clear sign that we've sang (basically screamed) everything our vocal chords could handle. It was a fun night though. Plenty of food, unlimited iced tea and smoothies, and plenty of songs we could all sing without even looking at the screen. It was definitely a good way to end a saturday night.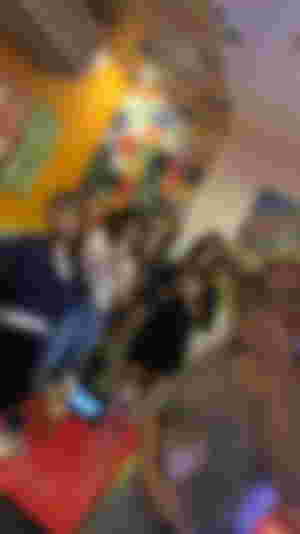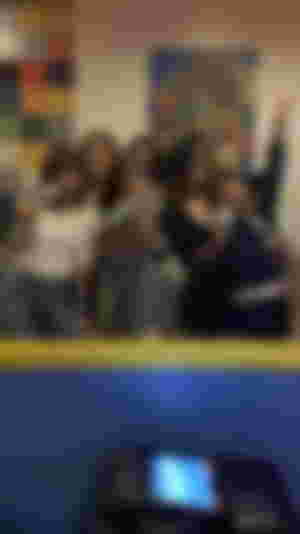 More pictures of the wild children and mom XD there was more, but they all came out blurry and these were probably the most decent ones we had. I hope we get more karaoke nights before my other sister leaves the country. We have until November to really bond over everything so good luck to us!
Thanks for stopping by!