About stillness, movement, and the world balance
Like many of us, I am probably not a patient person when I plan something. I am constantly looking to find a way to do it faster and end the waiting time. Not a big fan of queues. I am the kind of person that just leave the supermarket if there are more than 10 people in each cashier line and come the next day. I do not like to wait. I can force myself to do it for a while if I deem it a worthy cause. But usually, I want the results from yesterday.
But then is the other end of the spectrum. Once I set up something and it is working, I tend to leave it like that, and I find it very hard to change the alleged setup. I just leave it there, being a huge adept of the 'set and forget' strategy. This is not always playing as expected, so then, I introduced a new rule. First, keep an eye on the investment, until the invested money were recovered as profit. Then set and forget. This seems to work a bit better. But not a few times, I hear critical news a bit later than it should, and I lose considerably because of it. It is not just about the right moment (when Terra/Luna disaster happened I was on the plane, and by the time I landed and went home, I was already done), but also being a bit slower than the rest of them. Celsius stopped withdrawals before I even realize, and BlockFi, I did send my funds to another wallet on the same day they stopped the withdrawals, and, while I got the confirmation, the funds never arrived. Still there on the platform.
So, to summarize, I am giving 110% until I got the desired results, and then I just leave it be, and move to another project. Is this about boredom? It may as well be. I am getting bored easily, and even if I can learn really, really fast, once I reach the level that I want, I got bored. I need something new. Now that I am writing, I realize that this is more about keeping the 'monkey brain' busy, as the Far East sages call it, always on the move, more than about learning. Am I afraid to slow down and just do nothing? Just be? They say that if you end up being alone, and spending time only confronting yourself and your hopes/fears, you may not like it. So, in a way, I may not like to be alone with myself. Or at least I did not use to do it.
I started to meditate a few days ago, in order to calm down the squirrel brain that I possess, still jumping from one tree to another, from one thought to another. Stillness is not my forte. My body is responding and fighting against it. My mind was left to wander for far too long. But there are small improvements. So, I will check the progress again, after another month. I have a funny way to alternative check also. I look at my writing. When my mind is clear and rested, my calligraphy is impeccable, but when I am stressed and tired, looks like the Babylonian cuneiform letters.
The future is bright, and I will be there, improving myself. Honing my skills. And silently watching the inside and the outside world.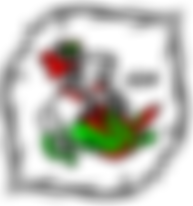 As for today, that's all. See you tomorrow.
George