Instant Pot Jambalaya
Rich and flavorful Instant Pot Jambalaya is classic Southern comfort food that is easy to make and ready to serve much faster than the traditional stovetop method.
Suitable for gluten free diets. Post includes Weight Watchers points.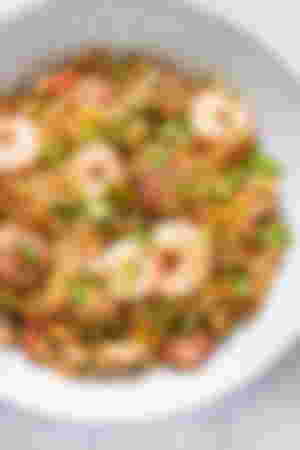 Folks, today is going to be a very good day. Why, you might ask? Because today I'm going to show you how to whip up this amaaaazing sausage, chicken, and shrimp Instant Pot Jambalaya Recipe. This is one of those lick the bowl dishes (no judgment here) because you want to soak up every last delicious bite.
And cooking Jambalaya Instant Pot makes it soooo much easier. Jambalaya is quintessential Southern comfort food but who wants to wait that long for comfort to be served? Thanks to the magic of the Instant Pot, your favorite Southern fare is ready to serve fast. #instantpotforthewin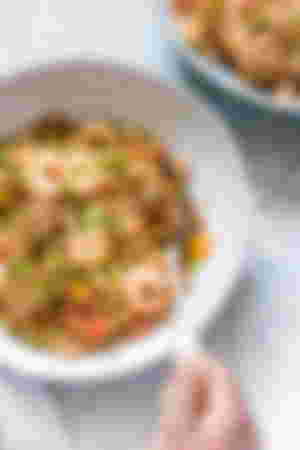 WHAT IS JAMBALAYA?
Jambalaya is a meat, vegetable and rice dish that originated in the U.S. in Louisiana. It is of French and Spanish origin and there are two main types of jambalaya:
Cajun jambalaya, which contains no tomatoes.

Creole jambalaya, which contains tomatoes and is the type of jambalaya you'll make with this recipe (even though I sometimes make it inauthentic and use Cajun seasoning – I still love the flavor).
Jambalaya utilizes the aromatic 'holy trinity' (sofrito) of vegetables: onion, celery and pepper. You will find this trinity used as the base of many Louisiana dishes.
Ready to learn just how easy it is to make delicious Jambalaya Instant Pot style? Gather up your ingredients and I will show you….
Get the complete ingredients list and instructions from the recipe card below.
In sauté mode, add half of the oil to the insert of the Instant Pot then add chicken breast. Sauté until browned, then remove and set aside.

Add the sausage, cook, then remove and set aside.

Add remaining oil and sauté the onions, peppers, and celery until soft, then stir in garlic and switch off.

Pour in chicken stock and thoroughly deglaze the insert.

Return the meat along with the remaining ingredients through the cayenne pepper to the insert. Use a spatula to mix well.

Close the lid of the Instant Pot, turn the valve to sealing, and set to manual pressure / high pressure for 8 minutes.

When finished, perform a quick pressure release (QPR). Carefully remove the insert from the Instant Pot, add the shrimp, and cover so the residual heat cooks the shrimp for about 6-8 minutes.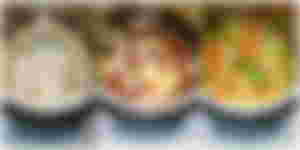 TIPS FOR SUCCESS
Deglaze the insert with stock before cooking the rice.

Don't layer the ingredients for this Instant Pot Jambalaya recipe. I tried layering with the rice and tomato added last and it did not work; half the rice was uncooked.

Make sure to do a Quick Pressure Release (QPR). I tried a natural pressure release and the bottom layer of rice was almost burnt (but edible).

Do not use frozen shrimp. Use fresh, defrosted, or already grilled (see the variations section) shrimp for this recipe.

Reduce the amount of Creole seasoning if you prefer less spice.

The cooking time listed does not include time for the Instant Pot to come up to pressure or for the pressure to release.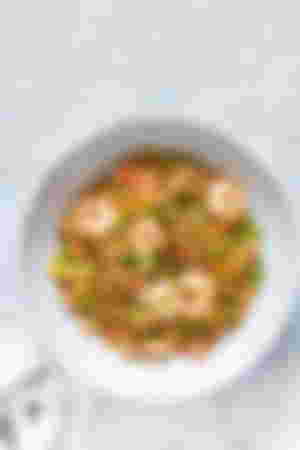 RECIPE VARIATIONS
Vary the Sausage – Andouille sausages are preferred but go with any smoked sausage you have. Picante chorizo is a great choice, even though not authentic.

Use cooked shrimp – to make it easier and quicker, just stir in cooked or grilled shrimp at the end and serve.

Change the Seasoning – swap in Cajun seasoning instead of Creole for a delicious flavor variation.

PREP AHEAD AND STORAGE

Prep Ahead – chop onions, peppers, and celery a day before and store in the fridge until needed.

Storage – keep in airtight containers inside the fridge for about 5 days.

Freeze – if planning to freeze cooked jambalaya do not add the shrimp. Divide into freezer-safe storage containers or zip-top bags and freeze for up to 3 months. Then defrost, reheat and add in cooked shrimp just before serving.