Air Fryer Salmon Patties
Air Fryer Salmon Patties are a quick and easy healthy meal that is packed with flavor. Cooking salmon patties in air fryer makes them nice and crispy on the outside, yet keeps them tender and moist inside.
Suitable for Low Carb, Keto, Whole 30, and Gluten Free diets. Weight Watchers Points included.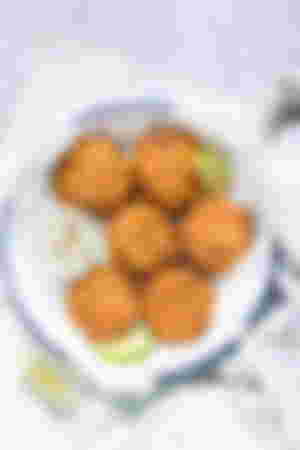 Folks, this recipe for Air Fryer Salmon Patties is my new air fryer obsession. I loooooove using the air fryer to cook up all sorts of delicious and healthier versions of my favorite fried foods.
But it hadn't occurred to me to make my go-to quick and easy salmon patties in the air fryer.
Until now, that is. And I loved making Air Fryer Fish Sticks, awesome Air Fryer Salmon Croquettes, really juicy Air Fryer Salmon,
Try also golden crispy Air Fryer Whole Chicken and The BEST Air Fryer Hamburgers.
I love these for game day or New Years Day, Easter and other festive holidays.
EASY SALMON PATTIES
I was already smitten with this how easily a salmon patty comes together. Just pop open some canned salmon (or fresh if you prefer), mix it with the other ingredients, form into perfectly seasoned patties, and they're ready to cook. Easy Peasy.
And with the air fryer, they cook soooooo much faster, making this an easy recipe.
Seriously, in less than 10 minutes, you have amazingly tasty salmon patties that are golden brown and super crispy on the outside, whilst managing to stay tender and flaky inside. You can finish it off with some lemon juice and serve it with Chipotle Aioli.
WHY MAKE THIS RECIPE
These Air Fryer Salmon Patties are a nutritious and satisfying meal made with less oil than frying.

Easy and hassle-free to whip up from pantry ingredients and minimal prep time and cooking time. 

Flexible – easily accomodates herb and spice additions to your taste.

Versatile – makes a great appetizer, side dish, or main dish with a salad or some starch.

Make ahead and fridge friendly recipe.

Double or triple to feed a hungry crowd.

Dietary – suitable for gluten free, low carb, or keto diets.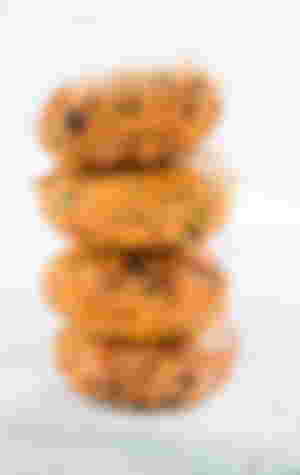 INGREDIENT NOTES
Salmon – This can be fresh salmon or canned salmon. I love using the canned version since it is so economical. Try it with both and see which you prefer.

Cilantro – fresh cilantro adds a delicious flavor. Feel free to use fresh parsley instead.

Green onion – this adds a lovely onion flavor without the effort of cooking onion beforehand. Feel free to use onion powder instead.

Smoked paprika – adds a lovely smokiness to your fish patties.

Egg – this helps bind everything together to easily form salmon cakes.

Lemon – a pinch of lemon zest provides a bright citrus flavor.

Seasoning – pinch of salt and freshly ground black pepper, or to taste.
HOW TO MAKE SALMON PATTIES IN THE AIR FRYER
Get the complete ingredients list and instructions in recipe card below.
Preheat air fryer to 360 degrees F / 180 degrees C.

 Mince your fresh salmon or open canned salmon, drain and remove the bones (you can leave in if you prefer; I actually like the bones).

Add all ingredients, including the sea salt, to a large bowl and combine.

Form the salmon mixture into 6 patties.

Add patties to the air fryer basket and lightly spray with no-calorie cooking spray.

Air fry for 6-8 minutes, turning over halfway through the cooking time.

Serve with lemon wedges or lime wedges and a salad.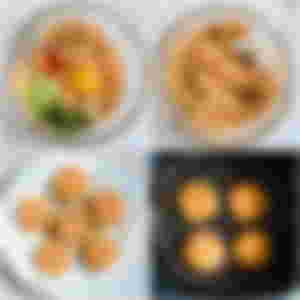 HOW TO MAKE BAKED SALMON PATTIES IN THE OVEN
No air fryer? No problem! Oven Baked Salmon Patties are also quite easy to make. Just follow these simple steps:
Preheat oven to 375 degrees F / 190 degrees C / gas mark 5.

Mince your fresh salmon or open salmon cans, drain, and remove any bones (if you prefer).

Add to bowl along with rest of ingredients.

Mix and form into 6 uniformly sized patties.

Place on a baking sheet and spray lightly with no-calorie cooking spray or olive oil spray.

Bake for about 15 minutes.
Please preheat your air fryer for the best result.

Make sure to form salmon patties that are the same size all along their width so they will cook evenly and at the same rate. You may want to use an ice cream scoop to help keep the patties a consistent size and ensure that they all cook evenly. Try and keep them to about one inch thick.

Do not overcrowd the air fryer basket. Make sure to leave space between fish cakes so that the hot air circulates to cook and crisp them up. Cook them in batches if needed.

If you want them to crisp up a bit, then increase the air fryer temperature 375 degrees F / 190 degrees C. You can also spray them with more olive oil in the final few minutes of cooking.

This recipe works the same in basket style and oven style air fryers.

Make sure you don't overcook the fish patties; keep an eye on them during the last few minutes of cooking.

Air fryer temperatures can vary depending on the make and model. I recommend starting with less cook time, checking for doneness, then adding more time as needed.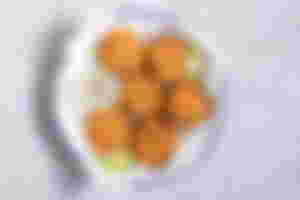 DELICIOUS VARIATIONS
Vary the flavor – feel free to add things like fresh chopped dill or dried dill, curry powder, garlic powder, or Old Bay seasoning.

Add heat – add heat using red pepper flakes, chipotle, or sriracha.