Top 3 Emerging Cryptocurrencies to Keep an Eye On!
There are several incredible projects that are still going strong in this bear market! Make sure to check them out!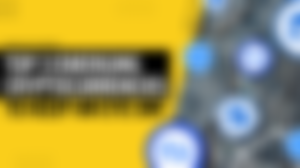 The market value of digital assets has decreased by around two-thirds from their all-time high. Digital currencies are now available at significant discounts compared to their bullish prices.
As a result, those willing to take unique risks might devise a strategy to benefit from this opportunity. Several fantastic projects are still going strong in this bad market!
In this blog, I am going to feature three noteworthy projects to keep an eye on since they have the potential to develop huge traction in the next years!
But first, please be aware that this is NOT financial advice! Always remember to DYOR!
Current Price: $2.13
The Braintrust BTRST token reflects the brand's philosophy, providing a decentralized talent network that connects certified skilled professionals with the world's most successful businesses.
This is one of the most fascinating cryptocurrency ideas. It is a decentralized employment alternative to traditional staffing companies.
This ensures that the network will always adapt to its users' needs rather than those of a centralized organization.
Furthermore, Braintrust has attracted record levels of new talent and employment because the network's native BTRST token allows skilled workers and contributors to acquire ownership and control of Braintrust in exchange for their efforts for the network and its advancement.
Current Price: $0.1582
Cryptocurrencies, although potentially representing the future of money, are the foundation of a dangerous world.
As a result, even in seemingly safe environments, a greater level of security is required; this is where NuCypher NU kicks in.
NuCypher, according to Coinmarketcap, employs proxy re-encryption (PRE) technology to enable users to safely communicate secret information on public consensus networks.
NuCypher says that it is considerably more safe than other blockchain attempts based on public-key encryption since it uses this decryption mechanism.
Current Price: $1.09
By adopting business models such as software as a solution, large technology businesses such as Microsoft have altered the ever-changing environment of application design.
Flux FLUX expands on this concept by implementing it in decentralized software utilizing Blockchain as a Service.
In its most basic form, the software uses a completely decentralized environment to allow real Web 3.0 innovations.
According to the official website, Flux offers the New Internet with vital, high-availability infrastructure.
I hope you find this blog helpful. Be cautious when investing in and learning about the cryptocurrency sector. If you enjoy the content, please consider following me!