My 100x crypto strategy
Last chance to buy these gems!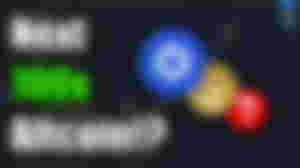 Background
My story with cryptocurrencies dates back to 2017. At the time, crypto was getting more and more traction, I remember I even saw something about BTC on my local news forecast. So after a couple of months, I decided to give it a shot. Little did I know what was waiting for me…
The past 5 years have been a rollercoaster for everyone, and the crypto markets were no exception. I can now safely say that I've had some experience with these types of fluctuant markets.
After getting over huge bear markets, huge bull markets, numerous failures, and losses, I think I am entitled to give you some valuable advice regarding the current state of the market and what I think will come next.
Of course, you have to keep in mind that I'm not a financial advisor and you should do your own research before investing.
My first harsh lesson was that not even crypto can make you an overnight millionaire. Patience is key. You can have 20–30% green days, but then you'll also see -40% days, so it's not an only uphill journey. If you are patient enough to get past the daily movements, you'll start to notice that the long-term chart is bullish(as you can see below).
Bitcoinist
My second observation is that it's important to get valuable information from reliable sources. I mean that not every YouTuber with caps lock titles knows what's best for you. There are solid YouTube channels with proper information, try to avoid clickbait titles. Also, information can be found in various other places, from CoinMarketCap to Wikipedia, to other social media platforms.
Lastly, I found out that finding a couple of projects and sticking to them is better than always searching for new projects. This way you'll have more time to focus on your coins and do thorough research.
First of all, to invest, you need to have some funds. So my first advice is to try and make as much money as you can and save as much as you can.
This is exactly what I'm doing too, for example, my Medium blog is bringing me a (small) amount of cash each month. That is all directed towards crypto investments. Also, if you'd like to support me, consider engaging with my content! Claps and comments are always welcomed!
Secondly, I think doing research in a particular area of crypto will help you. For example, I chose crypto gaming and started reading everything about it. This way, when the next bull market begins, I'll be all set and waiting for some serious rewards, because I knew where to invest. And I can teach you this too!
The third step is to find the right moment to buy. Luckily for you, it's right now! Bear markets have always been the period in which real money gets made. It's basically a discount for cryptocurrencies. A sort of genuine crypto "Black Friday". So get started ASAP, your time is slowly going away.
The last step is to practice patience. I don't know or care how you'll do that, maybe yoga, meditations, sport or whatever you'd like, the important part is that you need to have it. You don't know when the bull market will begin, it might be tomorrow or in 2025. Either case, you should be winning, not losing. Patience will bring that to you.
Vulcan Forged is a blockchain game studio and NFT marketplace. They are the makers of VulcanVerse.
In this "VulcanVerse", users can stake their coins, they can play "play-to-earn" games, there is a marketplace for NFTs or other crypto assets, and many other benefits.
CoinMarketCap
Ultra is a publishing platform and ecosystem for video games and video game content. Ultra's mission is to do away with the current monopoly held by publishing platforms like Steam and provide new opportunities to game developers, players, and influencers.
Players can benefit from immediately playable games, earn UOS by using the platform, and access platform-exclusive games.
CoinMarketCap
Illuvium is an open-world fantasy battle game built on the Ethereum blockchain. Often touted as the first AAA game on Ethereum, Illuvium looks to provide a source of entertainment to both casual gamers and hardcore DeFi fans through a range of collecting and trading features.
The world of Illuvium is inhabited by creatures known as Illuvials, who can be captured by players that best them in battle and nurse them back to health. From then on, they become a loyal part of the player's collection and can be used when battling other adventurers as part of Illuvium's auto battler gameplay.
Coin Market Cap
Inspired by popular games like Pokémon and Tamagotchi, Axie Infinity allows players to collect, breed, raise battle, and trade token-based creatures known as Axies.
Each Axie is a non-fungible token (NFT) with different attributes and strengths and can be entered into 3v3 battles, with the winning team earning more experience (exp) points that are used to level up an Axie's stats or evolve their body parts. These Axies can be bred together to produce new and unique offspring, which can be used or sold on the Axie marketplace.
The Axie Infinity ecosystem also has its unique governance token, known as Axie Infinity Shards (AXS). These are used to participate in key governance votes and will give holders a say in how funds in the Axie Community Treasury are spent.
CoinMarketCap
These are just a few of my picks, if you would like to find out about more projects that will likely explode in the future, check this article: "These 4 cryptos will 20x in the next cycle".