Luna Classic: The Silent Money Train!
Luna Classic has been going parabolic during the past 14 days. The token has risen from a low price of about $0.00009905 on August 24th, all the way to $0.00048657 today, (September 7th). This is an astronomical gain of nearly 4,000% in just two weeks!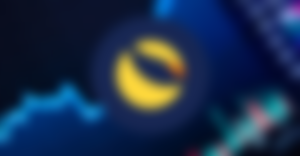 In Market Cap terms, Luna Classic has gone from a meager $325 Million to $2.3 Billion Market Cap token in just the same amount of time it takes to visit the top 5 National Parks in the United States by Train: 14 Days!
Luna Classic is creating more Billionaires, right now, than has ever been created in Crypto! It is the Silent Money Train that is ripping across the entire Crypto world!
Chart Courtesy of Tradingview
Chart Courtesy of Tradingview
Save for the Lunatics, the entire Crypto establishment has totally been silent on Luna Classic. You will not find any articles covering Luna Classic's meteoric rise at any major Crypto news platform. Similarly, Luna has been completely shunned by the major Crypto YouTube influencers.
Silence and Money!
What is true however, is that Billions, if not Trillions, are being made in Luna Classic at this very moment. Major hedge funds, banks, and traders are pouring Billions into this nascent platform. It is the most hush money investment in the industry.
The establishment practice is simple: when things are Good, you move fast and silent!
This is why you will not hear any credible investor or financial commentator boasting about the revival of Luna Classic. There is no whistle on the money train! It is Fast and Quiet!
Luna Classic Social Trending
Since the beginning of August, I have written over eight articles covering the rise of Luna Classic on my Medium page. And the traffic on these articles have been nothing but estonishing. Some of these articles have had over 7.2k views and 2.1k reads.
Most of the search traffic on Luna Classic is coming from Google, Twitter, and instant messaging services (email, IM, and direct). In fact, Luna Classic is the most searched-for Crypto in Google and Twitter. It has been trending on both networks since the revival of Luna Classic on August 26th.
The Luna Classic Money Train!
While it is impossible to realistically estimate the amount of money being made in Luna Classic's revival, we can certainly look at the actual volume of daily trades as an indication of the wealth that LUNC is creating.
Consulting CoinMarketCap and Coingecko, we can see that Luna Classic just reached a market of $3.1 Billion on a 24-hour trading volume of $2.5 Billion. The token rose over 25% today and over 50% between September 4th and 5th.
Data Courtesy of CoinMarketCap
Data Courtesy of CoinMarketCap
Data Courtesy of Coingecko
You can clearly see from the above charts where true Crypto money is being made these days. It is not in Bitcoin, Ethereum, Solana, Polkadot or Cardano. All these Layer 1 platforms have been struggling to merely maintain their respective supports. Furthermore, their price movements are largely correlated to Bitcoin; and Bitcoin has been on a downward trend the entire Summer, save for a few bear-trap rallies.
The true money maker in the Crypto space is Luna Classic. It is the only chain creating Billionaires at this moment. But, unless you happen to be reading my articles or viewing some Lunatic YouTube channel, you will never hear about Luna Classic.
That's how GOOD things are in the Luna Classic's Party Train!
Everybody who knows how money is made also knows that silence is the key to success. You do not speak about your deals. You do not reveal the size of your bank account. And most of all, you absolutely do not share any information on the new deals you are working on!
Only in the Crypto space will you find YouTubers showcasing their portfolios and bragging about which tokens have 100xed. However, they too have begun to learn with Wall Street and have joined the Silent money movement!
Returning to the Money Train
As I am about to close this article, I decided to check on the current price of Luna Classic. Guess what? It just crossed the $0.0005 resistance! We are officially heading all the way to $0.001!
This train ain't stopping. The cabins are locked; the engine is loaded! And, the whistles are broken!
Disclosure:
In compliance with the financial disclosure requirements, I must inform you that I am not an investment advisor. This article is for information only. Do your own research. Furthermore, I own Luna, including units which I purchased before and after the UST/USD depeg.