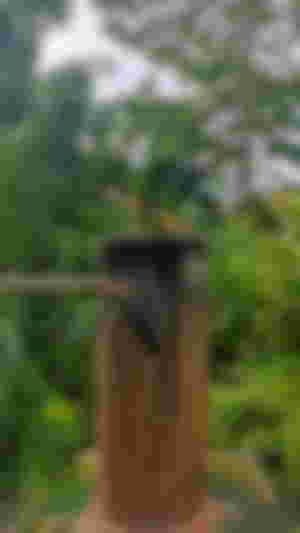 Assalamu'alaikum all friends, come back with me @Goodhand in this beloved community.
this morning I woke up in the kitchen already a lot of people were cooking, I wonder why so many people,when i was still asleep i felt someone wake me up and ask for my cell phone,when I woke up it was true that my cell phone was not beside me, when I went out to the bathroom,I saw my brother-in-law outside chatting with neighbors, I went back to my room to wear clothes to be a little polite in front of people.
before taking a shower, i went to my sister's house behind the house to get my cellphone which was taken by my nephew when i didn't wake up, after I went to my sister's house and met my nephew, I asked when it would arrive?, he answered last night at 20.30, it turned out that my nephew came home earlier than me, my brother-in-law and the brother he brought to sleep in the nearest guesthouse.
after I took my cellphone and talked for a while with my nephew, I immediately went to the bathroom, finished from that I immediately continued to do the dhuhur prayer, after that I went again to my sister's house to talk again with my nephew, because it has been a long time no see.
while having fun talking and joking with them, my sister invited me to go to your brother's house and go to grandma's house, before going to grandma's house,we went to a relative's house to attend a 7 day event for a brother who died, when we got there we were very well received.
After sitting for a while I went to the hot springs behind my brother's house, the hot water has been around for a long time, since the Dutch colonial era.and a wall has been built to make it easier for those who draw water there,I took some pictures and videos there to capture before the government will build a public bathhouse.
after the hot water I returned to my brother's house, a few moments after that we went straight home and stopped briefly at grandma's house to visit him, after that we went straight home, because at home there was also a prayer together for my dead relatives, when we arrived I immediately went back to the shop.
after I came home from the shop, I immediately got ready because after the Maghrib prayer the congregation of prayer together came, before that I did the Maghrib prayer first.
After that, I immediately helped prepare a place for the congregation who were about to arrive, and some had already come and were waiting outside.
that's my Story today, hope all friends like and read my story today, thank you for the support of all friends. I am @Goodhand wassalamu'alaikum.