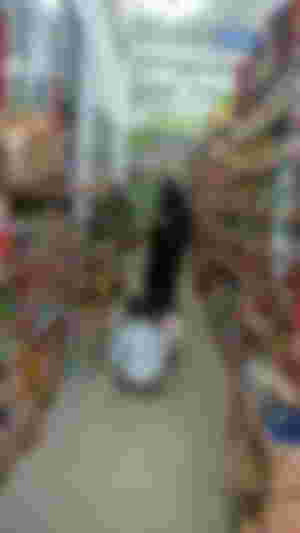 Assalamu'alaikum all friends, come back with me @goodhand in this beloved community.
In the morning I do some work such as tidying up some of the equipment that was used last night for cooking.
In the afternoon I was ordered by my mother to take the rice at my grandmother's house so that it was taken to the rice factory to be milled and replace the rice from the rice factory owner which was taken by my mother some time ago.
after I finished with the work given by my mother, I returned home,in the middle of the road I took the road a little further, because I wanted to take some portraits of the sky.
after i got home, my nephew was bothering me, so i wasn't comfortable playing on the phone,but because I meet my nephews only occasionally, I serve them so they don't feel bored at home.
while having fun playing with them, one of the nephews asked me to take him to a hawker shop,when I was about to go out it turned out that my little nephew was crying, so I was told to bring him so he wouldn't cry anymore.
arrived at the hawker shop, cool nephew took some snacks, so when paying the money given by their father was not enough, so I had to use my money, yes my fate today,I don't have a job yet, I still ask my parents, I have to pay for my nephew's snacks, what's worse, if it's not a nephew where will I pay. hehehe
after coming home from buying snacks my nephew was about to play an online game on his cellphone, but suddenly his nephew climbed onto my shoulder,Yes, I have to serve them so they don't cry, it's fate if the niece gathers at home.
Yes, I have to serve them so they don't cry, it's fate if the niece gathers at home.
that night after Maghrib prayer, my nephew asked to buy perfume, so I went to a perfume shop to buy 2 perfumes that my nephew asked for,after I came home from buying perfume, I went to the family shop to help my sister who was selling alone, because the employee didn't come tonight,I went with my little nephew, arrived at the shop he even said he wanted to pee, I told him to just pee in the shop, he didn't want to, so I took him home.
after bringing him home I returned to the shop, there I sat at the cashier, because the juice and coffee rack was already handled by my sister.before my sister and I closed the shop, my niece and others came, they wanted to go home, my mother and sister accompanied them.
at 10 I closed the shop, after closing I went home for a while to give the shop money today's results,after I gave the shop money to my brother-in-law, I immediately went to the coffee shop, there was already my cousin sitting after the prayer, God willing.
that's my Story today, I hope all friends like and read my story today, thank you for the support of all friends. I am @goodhand wassalamu'alaikum.