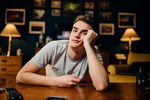 Flashback
The day came and the meeting started,it was at the beginning my dad made mention of something that up till now I still feel the pain and shock that I felt then. What did he say?
"He said I am his adopted son,"
This was what my dad said in the meeting he arranged so as to discuss how his properties will be shared when he is not alive because he is already having the thought that he won't survive the sickness.
Click here to read the part 1 of this story if you haven't.
Good evening my children,how have you all been? I hope your parent didn't say anything about your lateness the last time you guys came around.
Segun- Evening sir,they didn't say anything,we are all fine sir. We came early today as to hear the concluding part of the story and leave for home very early.
Good, let's the story begin.
I was shocked with what my dad said and I couldn't think straight any longer because I knew it was over for me and that I cannot even have a share in his property since I am not his biological son. I went to meet my mom who was bitterly crying because she felt so bad and sorry for not telling me all these years and again,she never expected my dad to say it because they both agreed not to tell me even when they were about to die. My dad said this because I am not the type of child he expected me to be. My waywardness and my other bad behaviours lead him to the state he is because I refuse to make him happy for once. He has always been thinking about me all day,so my case leads to his sickness. My mom was just all over me,trying to tell me she's sorry for not telling whereas I was only thinking of finding my way out of that house to start a new life even though I felt for her for not having a child that can have her back when she is no more. But to our greatest surprise my dad impregnated a lady during his NYSC days,but because the lady is not educated like my mom,he refuses to marry her but promised to take care of her and his son. My dad took care of the child and the mom till his present age and never told my mom about it. I think I am the one God used to punish him for his bad habit too. He offended my mom with that and my mom kept on crying and raining curses on him.
When he was about reading his WILL, the woman he impregnated came in with his son. He is my elder brother even though I am adopted, but at least I am part of the family. My dad welcomes them and they both sat down to listen to the information about to be shared. My dad started by sharing 20% of his property to his family members, 20% to my mom and that's to be shared with me because he believes my mom has just a few years to spend on earth and I am going to be the one to inherit it when she is gone. The remaining 60% goes to the other woman and his son. It was when I heard this I knew it was finished for me and I believe the saying, " Is only a woman who has a child for his husband that has priviledge in his husband's house and a woman who doesn't have a child has nothing in the family". We all left after the meeting but the woman and his son stayed behind. My father died after two weeks,and I was left with my mom alone. We went to the house that was willed for us and evacuated the former house for the other woman and his son. Not long after my dad died,my mom also died because she couldn't get over what happened to her,she kept thinking and crying every blessed day and that led to her sudden death. I cried bitterly because I had no one to run to,all my friends that we both had fun together left me alone because there was no money again like the old days,it was then I realized that "it is only when everything is rosy that you see people around you but when there's no money,they will leave you all alone to face it".
My dad family never remembered me because I was adopted and I never treated them well when my parent was alive too. I am always looking at them with bad eyes and always have this conception that they do come begging for money from my dad,so I rubbish them and behave anyhow. My dad families knew that my dad had a child somewhere else and that's why they never looked back on me.
I was left with nothing other than the house that I inherited from my dad. The money given to us was spent on mom sickness before she died,so nothing was left. I had to sell the house and start a new life for myself,the money I received from the house I sold was used to start a small business which I have been living on up till now. HAD I KNOWN earlier I would have retraced my steps back all those time I had been chastised for doing the wrong thing. My life would have been really better if I HAD KNOWN this is going to be the outcome. I had a bad ending,I know that and I would like you guys to learn from my story and never forget about it.
Lesson:
Be ready to be chastised for your wrong doing.

Be open to rebuke

Choose your friends wisely

Do not let riches get into your head

Stay humble at all time

Be approachable
"Thank you, Mr Abamo,we are really grateful you were able to share your story with us." We really learn a lot,God bless you sir. We pray God will forgive you all your sins and restore you back to the position you desired to be"- Segun said.
Amen,God bless you too - Mr Abamo replied.
Good night guys, I hope to see you all around again some other time. I still have some interesting story to tell you guys. Stay safe and have a good night's rest.
Thanks for reading,God bless you all.
Byee for now😘😘
20th july 2021.