I hate the banks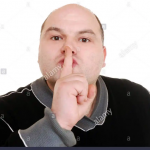 Even before my knowledge of crypto, I have always looked down on banks and their services never enticed me.
Since when I was little, I have always enjoyed having my own piggy bank and saving my small cash in it. As far back as I could remember even though I can't tell at what age exactly. I usually start my savings from January till mid-December, closed enough to Christmas when either of my parents would have my piggy bank opened and allowed me access to my savings. It didn't matter how much it was, I would be excited to have my money in my hands and buy whatever I wanted with it.
I never liked the idea of giving anyone my money to keep for me. Not even to my parents. My friends saved their money with their mothers and I used to hear the testimonies of how they don't get to use the money whenever they wanted. I can't say for a fact if all these things I hear from them was what scared me into not keeping my money with anyone but I think, it was just a part of me. I was probably born with it; I liked freedom so much and didn't have much patience as a virtue when it comes to getting what I wanted though I'm trying especially now that I'm all grown.
Aside piggy banks, I used to save cash where I could easily access when the need arise. Whenever my mother was stranded and needed little amounts, she would ask and I would hurriedly give it to her in excitement. That is all I wanted; having full dominion over what is mine. I would buy gifts for my siblings and even give them cash if need be but would never give any of them money to keep for me.
I think I grew up with that mindset and attitude. When I became of age and started making my own money, I still didn't believe in keeping money somewhere only to be faced with one glitch or the other whenever I want to withdraw. So, I kept all my money at home and carried cash around for transactions. Throughout my high school days, I ignored the banks. Whenever I flashed back to how my father used to complain bitterly about his bank, how their poor services prevented him from doing one thing or the other, the charges he incurs and rest of the numerous problems, I just get more discouraged and my hatred for banks grew stronger. I remember a time when my father wanted to pay electricity bill, his bank account had problem and was been sorted out, there was no enough cash at home. It's prepaid and the operators had to disconnect us. We had no power in the house for days and it was terrible.
It was after I got admission to the university and had to leave home that it became a necessity for me to open a bank account because that is the only place available that my sponsors could easily get money through to me. I was reluctant but I had no much options. I hated every bit of the procedure. They wanted every detail about me and asked for every possible document as though their lives depended on it. They didn't trust me as much as I didn't trust them. To fully activate my account took more than just a day and I had to pay a sum to be able to do that.
With every transaction, my hatred for them grew stronger. The sluggishness, the outrageous transaction charges, and the numerous procedures that have to be followed. These experiences made me wish for an alternative every single time. I came to fully understand how shitty the banking system and fiat as a whole actually is when I couldn't use my debit card to pay for international services. I couldn't receive payment from outside my country because all the gateways are blocked for reasons best known to them. All the paying foreign sites I engaged, the money earned from tasks on those sites, the time spent doing all of that was just wasted because I couldn't withdraw.
The most painful part is that, your money will just sit with the bank, they use it to give out loan and leave you with no return. In fact, you can't come back anytime to meet the exact amount you kept with them because, they would have deducted their ridiculous charges for ridiculous reasons. I hate the long queue in the bank, people standing for hours to access their own money as though it isn't theirs. The limitation is just too much. You are constantly being watched and each time and unusual amount get credited to your account, it gets frozen and you get invited for questioning like a thief.
Learning about cryptocurrency through BCH was a lot of blessing to me. Because I could do so much with crypto that I couldn't do with fiat through the banks, I quickly and whole heartedly embraced it. And since then, it has only been good testimonies upon testimonies for me. I could now receive payment from foreign sites easily with crypto, make payment for services that accepts crypto and get money across border to friends without having to worry about delays and sanctioning. I could use BCH for anything I desire, even as a piggy bank.
All the problems associated with the banks are corrected with crypto. And BCH is still the only crypto I could proudly say represents what crypto is, and gives you a better experience of financial life and freedom. This is why we need to get it to as many people as possible. But doing this will definitely take lots of sacrifices.
My last post was about a fantasy and my dream about a project which I strongly believe would contribute immensely to the growth of BITCOINCASH. It only remains a dream until it is achieved and together, I believe we can achieve it. It doesn't matter how little your contribution is, what matters is at the end, we are able to achieve our goal together.
Read the full project proposal here: Bitcoincash School Bus in Africa
Send your contributions to: bitcoincash:qp3tymd9v8hagpkfmyr68vwja33fl6wcqg0pzppcvl