Start freelancing for cryptocurrency
Who is a freelancer? A Freelancer is a person that does some job for somebody, but isn't employed by them. It is basically "self employment" via the Internet.
Steps to become a cryptocurrency freelancer:
Get a cryptocurrency wallet

Understand what you want to do

Sign up for FreelanceForCoins

Payments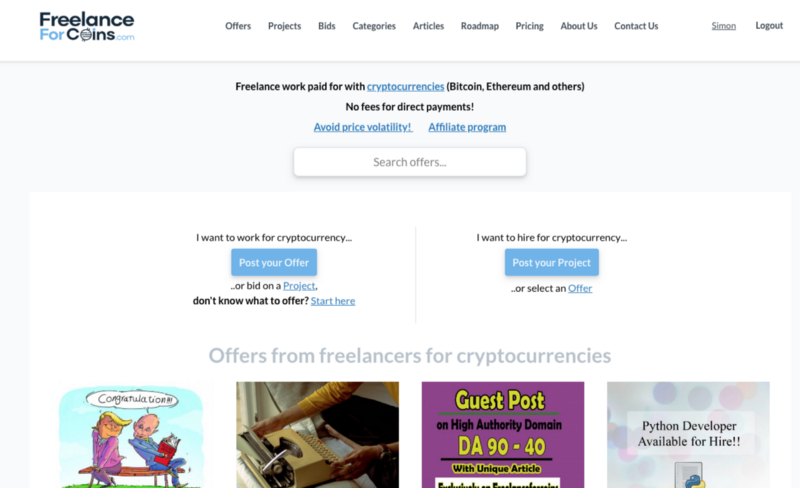 Ok, let's see those steps in detail.
This has two parts: "why freelance" and "why for cryptocurrencies".
A number of reasons.
Being a freelancer is fun. No, really, it wasn't even possible to be a freelancer a hundred years ago.
Freelance jobs are on the rise. Almost every research shows that the number of remote jobs is increasing. Gig economy is on the rise and working remotely follows the trend.
You are "self employed", so you get to set your hourly rate, how many hors per week you work, you can work in the comfort by working from home, you can start being your own boss, you can decide how many hours a week should you work, you don't have to work 9-to-5 or 996 ("9 a.m. to 9 p.m., six days"), you can take time to do some networking (i.e. visiting conferences and get to know potential new customers)
Most of the freelancers are remote workers. Freelancing can be both a full time job and part time job.
First of all, cryptocurrencies are "borderless" in some sense — i.e. you can easily get paid in seconds, rather than waiting days for bank transfer to clear.
Secondly, your money is your money. They can't be frozen or taken away. They can be really well-hidden (google for "brain wallet").
Thirdly, though cryptocurrencies are volatile, meaning that they can lose something like 90% of the value in a year, but they are also volatile to the upside:
Imagine for a moment that in 2013 you were paid for your work. Let's say $1'000 for 50 hours of work in Bitcoin. You left it sitting. 4 years later (April 2019) you'd have 33 BTC, 33 BCH and 33 BSV. That is approximately $190'000. Now, again, is volatility all that bad? If you were to invest it in stocks — you'd have only $1'400.
Cryptocurrencies work just like any other currency: you can spend it, you can buy stuff from Amazon (via Purse.io), you can exchange one cryptocurrency to another (FixedFloat.com or google for "cryptocurrency exchange"), you can exchange it back to fiat (USD, EUR, etc, via CoinBase, Kraken or CoinMama)
There are many cryptocurrencies. You can use https://coinmarketcap.com/converter/ to understand how value of one of them relates to another.
CoinMarketCap is a very useful site. Generally you should avoid using cryptocurrencies which are not in Top 20 on CoinMarketCap.
Most of the work for cryptocurrencies currently (April 2019) is done in Bitcoin (BTC). Ethereum, Bitcoin Cash and Monero are also used for transactions, but much less.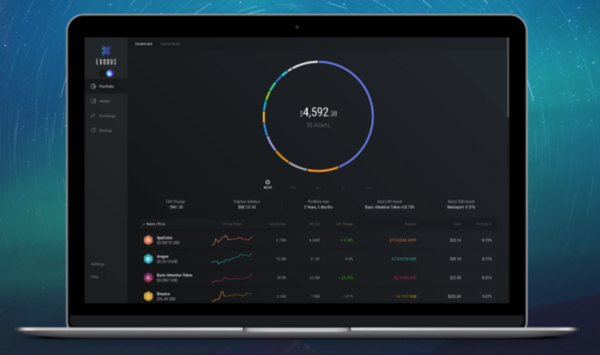 There is probably nothing easier than Exodus Wallet because it supports nearly every popular cryptocurrency in existence — Bitcoin, Ethereum, Bitcoin Cash, Monero, Litecoin, Tron, Dash, EOS, ZCash, Lisk, Waves, Loom, 0x, etc… This way you won't have to decide which cryptocurrencies to accept.
So, go to the web site, download it and run it.
Before you start — you need to back up your wallet — go to "Backup", generate a password (you can do it here), write down 12 words — they are very important! If you lose them — you won't get access to your money.
Other than that it's really easy to use. Go to "Wallet", click the cryptocurrency you like, click "Receive" — you will get an address: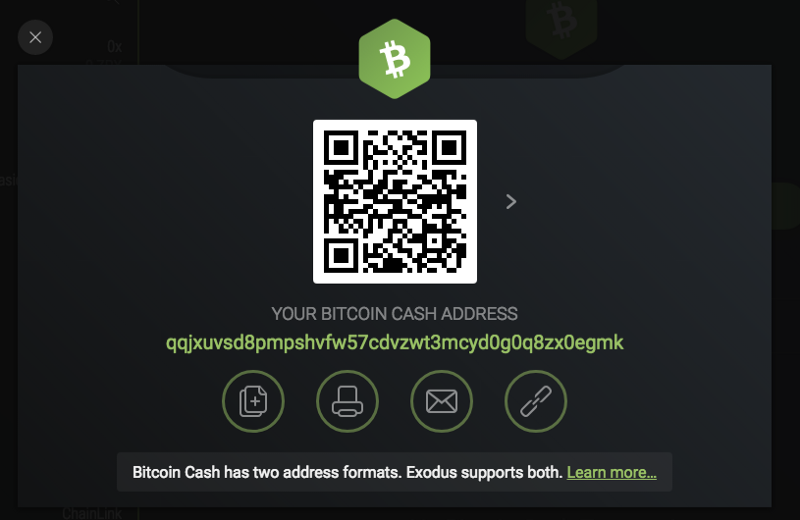 This is what you need to give to your future client to get the funds.
That's about all you need to know. No need to register anywhere or wait for paperwork approval — you can start working immediately.
You can even exchange one crypto to another inside Exodus, but it's usually much more expensive than using something like FixedFloat or ChangeNOW.
Be advised though, sometimes when using cryptocurrency exchange services and exchanging big amounts of money — your money might get stuck due to "suspicions" of the owners. Exchanging small amounts should be relatively safe.
Now it's time to decide what kind of services can you offer.
Freelance Designers create designs of websites for clients. They mostly use tools like Sketch and Adobe Photoshop to create a design for a website, which developers will then implement using HTML and CSS. It is a relatively popular thing to do as a freelancer. Like any graphic designers they are often required to have portfolio (demo of their previous work), which is often shown as a link to Behance. Web design is always necessary and always will be.
Freelance Developers are mostly programmers. Some of them develop websites or do web programming, some of them are just doing programming for other needs. It's very popular thing to do and there is always the need for more programmers (developers). This is a very diverse area and it would take a few books to list all of the things programmers do.
Translation is also one of the popular professions for freelancers, due to the fact that people often speak English in addition to their own native language. So, it's easy to get in, but we are not sure if there is that much need for translators online.
Writers are the freelancers who write content (articles, product descriptions, books, e-books) for other web sites and products. There are two types of freelance writing (or maybe more): copywriting and creative writing. Copywriting (or content marketing) means that you write a text that sells something. It's a skill in itself and requires some studying. Contrarily creative writing is just writing — articles, blog posts, usually it's on topics you can easily pick up in a few hours. If you have good writing skills — there is a lot of work for you.
Illustrators are creating images to be used by other people. Requires good knowledge of drawing and technical tools like Illustrator. Like any graphic designers they are often required to have portfolio (demo of their previous work), which is often shown as a link to Behance. Graphic design is always in demand and will always be.
Logo Design (and branding services) is one of the popular services that is requested from graphic designers. Branding is a bit wider
Another related topic is Business names and slogans creation. It's not as easy as it sounds, because mostly all of the good names are taken already. You have to be quite creative to find a new name that is pronounceable and has its .com free. Even though there are freelancers that specialise in finding available domain names —  they do the "Domain research".
Product designers are the ones who create physical products in 3D programs like SketchUp or 3ds Max, which are then used to manufacture the actual products.
Social Media Marketing (and social media management) is when you can get the message of the buyer and deliver it via social media to the masses. It can include a range of services starting from just managing a social presence for the employer (i.e. taking their images and text and pasting — that is what "social media manager" does) to having your own ways to grow the social presence of the buyer (i.e. the number of followers, likes, etc). There is a myriad of courses on the topic on Udemy.
Freelance 3D Modelers are the people who create 3D models (i.e. things which have volume, not flat things). Usually those are used either in game development or for product manufacturing.
Sometimes 3D models are used to create so called ArchViz (architectural visualisation) which helps remodelling, building houses, furnishing the new houses or apartments or moving the furniture around.
Virtual Assistants basically do everything that a customer asks them to do (as long as it's agreed upon), this might include internet research, answering phone, calling, sending e-mails, doing forum, Telegram/WhatsApp channels moderation.
Freelance project management. Sometimes freelancers are even hired to manage other people and projects. That's called "project management". It's not often done, but happens. Mostly, the companies hire project managers as staff, though.
Photography. Maybe not as lucrative as a profession as it was before. Great photographers are going to be in demand, but with all the great smartphones you have billions of people taking great pictures and occasionally trying to sell them. So you're fighting against billions of photos per year. It's an uphill battle.
SEO or Search Engine Optimization — making Google like your site. It's not easy and often unpredictable. Essentially you're trying to win the game where you don't know the rules and the rules can change at anytime without any prior notice. A lot of people work in this industry, but it's getting harder and harder every year.
This is one of the important parts. It's not enough to choose an occupation. You should specialise. A writer that has a lot of knowledge in some narrow topic, like "car washes" might earn 5 times more than just a regular write. A programmer that develops in-house apps for dentists might make 20 times more than a regular average programmer. However not every random niche pays out. I'm sure there is some need for writers about the species of the mice, but you probably won't survive doing only that. Like in other small businesses selecting your niche might make it or break it.
Well, this step is easy — just go to "Create your offer" and fill all the necessary fields (there are not that many of them).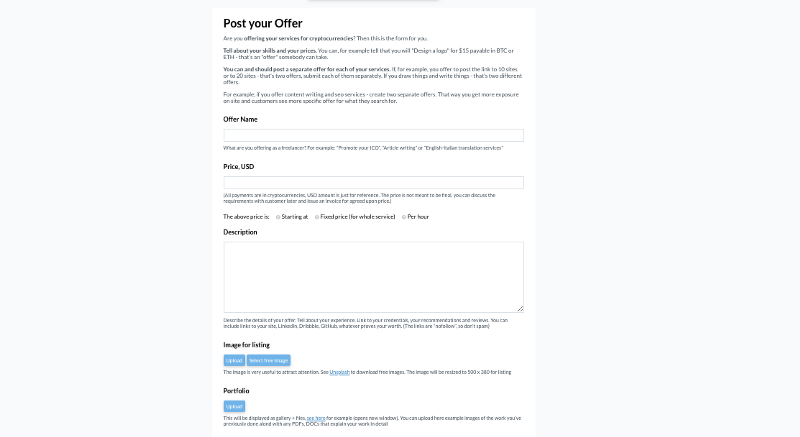 Should you expect an avalanche of orders right away. As of 2019 — probably not. FreelanceForCoins is still very young and as such — there aren't that many orders (though there are some!), but you probably still need to take your time to research who your potential customers are and try to reach them directly.
Most of them will refuse to use cryptocurrencies and that's exactly why we want a place like FreelanceForCoins to exist, so that we have a place where buyers and freelancers who use crypto can co-exist together.
The important thing to remember is to pay taxes on your income. Cryptocurrencies don't make you invisible and what's worse — they have records of transactions for all those years. That means sooner or later your government might discover that you aren't paying taxes on your profits.
Getting a good accountant is very important for any freelancer. Good accountant is not cheap, but they will save you a lot in the long run.
Even something as simple as "please send me an invoice" might be a trouble if you don't have an accountant.
Though "please send me an invoice" is easy on FreelanceForCoins: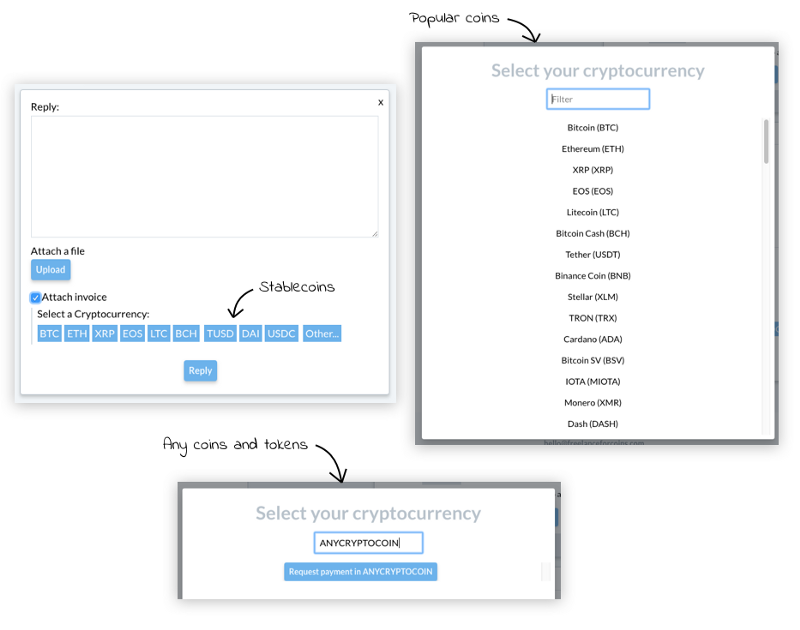 Sending an invoice in FreelanceForCoins
We have a number of accountants on FreelanceForCoins that are ready to help you with your taxes and invoices. Get your tax payments going!
A good accountant can also explain to you your own cash flow. Often people are starting to make money as a freelancer, but forget to note their own expenses and unpaid hours.
On a related thought — you should also find some contract templates on the Internet. Working without a contract can be quite scary.
There are two types of deals you can do (from the payments point of view) — escrow and regular.
Escrow means that a trusted third party holds the money until the deal is done.
FreelanceForCoins doesn't have escrow at the moment (April 2019), so the only option is to do the regular deal.
There is a way to do an escrow using BitcoinTalk (see this article), but it is quite complicated and requires some technical knowledge.
However, the regular deal isn't as bad as it sounds. You just need to talk through the milestone payments. We have an extensive article about that, but the general idea is simple. Take some money upfront (10%, 20%, 50% — up to you to decide) and talk through the conditions of full payment — which tasks need to be done for the project to be considered "complete".
We don't recommend doing any work before the customer pays some money. You also should release only "watermarked" materials to customer until full payment is done. Sadly freelancers disappearing is just as common as customers not paying in full.
Billing is a big topic and we have a section on that below.
Not having to go to work every day means you spend a lot of time at home either alone or with your family. Both of those have downsides.
Being alone is not fun for many people. When you're in the office — you talk a lot and dream of the time when you have some silence to work. However being in silence the whole day can be quite frustrating.
Coworking spaces help with that. You can hire a desk at a busy place and meet new people (your "coworkers") and share ideas. It's not very expensive.
Being with family the whole day has downsides too. First of all, you will be distracted. You need to have some rules with the family, like "the door's closed means I'm at work, do not disturb!" It can be tough and it will be violated occasionally. Coworking spaces can help with that too.
The general rule of thumb is to have at least 6 months of expenses on hand. Don't spend anything until you can survive 6 months without pay.
Freelancing has occasional "dry seasons" when there is no work available or you're just waiting for payment. You'll have to survive those periods. That's where your reserves come in handy.
Now that's something as enjoyable as having a red hot iron to the skin, alas it's the part of the game. You'll have to do that. Finding consistent stream of orders is your second priority (the first one being delivering excellent work). We have a section below on that.
Well, we have a whole article about asking for money, so you should read it. Invoicing is a necessity and you can't get away from it.
Note: double your hourly rate
Just a small sidenote: calculate how much you need to earn per month. Divide it by 20 (days), divide by 8 (hours per day), now multiply it by at least 2.

So if you want to earn $1000 per month — that's 1000/20/8*2=$12.50/hour.

Why double? Taxes, having to communicate and vacation. Taxes eat a lot. You also don't get paid while you're communicating with your customer. Emails, phone calls — zero. Your future vacation also comes out of your pocket. You earn zero while you're on vacation. Those are all non-billable hours. There is a lot of overhead.
Another way is to just negotiate a weekly or monthly rate.
In many countries when you are working for somebody — that company pays for your medical costs, dental procedures, etc... This is not the case for freelancers.
It's a weird feeling being on unpaid vacation. Since you're mostly being paid per hour worked — taking a vacation and not getting paid kind of feels like stealing from yourself.
Oh that's a big one. Sometimes you'll feel like you just don't want to get the job done. You'll just want to read that website, reply to that Facebook message, etc.. Wait? Where has the whole day gone? Why is the customer so angry? Oh wait? Deadlines? What was the deadline? Yesterday! Oh…
You'll need to be able to find motivation on your own.
Well, of course we think that FreelanceForCoins is going to be the best place in the long run, but in the meantime there are alternatives.
Ask your extended network (friends, family, doctors, people you randomly meet) how's it going, tell them about what you do, meet them for coffee and talk. Might be scary if you're an introvert, but it does work. Finding clients using referrals from your network is the best way to get work. Having a referral already shows that you have some good reputation. Word of mouth has always been the cheapest and most effective way to find work.
Meetups are a great way to find work.
Still one of the best places to find work. Talk to your old colleagues, join some relevant groups, answer questions.
Those are the behemoths in the freelancing space. But it's getting harder and harder to find good jobs there, because newbies have to fight against freelancers that have hundreds of positive reviews. Having zero reviews is just as bad as having negative reviews. The system is often abused in that even if you're hired — people know you're eager to not get a negative review. So, they might abuse you and you'd have to work for way too little compensation.
There is also definitely something fishy going on with certifications. I took an English certification, I think it was 20 minutes max. I finished with some errors at 19:40… There are people who have completed it in 40 seconds with a perfect score!
That's something that is hard to believe.
But overall freelancer.com is a good marketplace to sell almost any skill you have. There are dozens of assignments coming in every minute.
Fiverr is a good marketplace too. You can offer some specific service that you can do, like "Write 500 words article" and sell it. It's a bit crowded too.
For some people, yes. But it's probably easier to win the lottery. I mean every freelancer at some point starts a blog. There are probably billions of blogs around. Most of them are doomed and could never succeed.
However, having your personal blog might be very useful for finding clients. Your potential client might find you randomly via your blog, read some of your thoughts, write down your contact information until time comes to buy your services. It helps you in establishing your authority.
There is something you can do with freelancing that you can't do when being employed. You can hire freelancers to do your work. Yep! Don't think about it like you've just discovered a money-printing machine. Managing people is not easy. People are often lazy, miss deadlines, procrastinate.. You'll be on a hook if your own freelancer doesn't do his/her own work. But if you have an entrepreneurial spirit — you can do it.
Like with anything — getting started is not easy. Expect to have no customers at all for some time. Plan ahead for that. But, like anything else — perseverance pays out.
FreelanceForCoins is the place where buyers and freelancers using cryptocurrencies like Bitcoin (or Ethereum, Bitcoin Cash, Monero and stablecoins) can find each other. We believe that every freelancer in the future will have had at least one project done for crypto. Every year cryptocurrency adoption grows with no stopping in sight.

However, it's really hard to find freelancers accepting cryptocurrencies. It's a hard task even for us. We plan to take it slowly and attract users and earn their trust over time, adding new features and making this site more and more usable every day.
We hope you join us in our journey.

If you want to buy some services - look at the "Offers" and see if you like something. or publish a "Project" if you need something more custom tailored for you.

If you are a freelancer - offer your services in the "Offers" section or see the "Projects" for something you might do.
Enjoyed this article?
Earn Bitcoin Cash by sharing it!
Explain
...and you will also help the author collect more tips.
Comments