More pictures from the Opening Ceremony event of the NASENI-CORNELL SOLAR INSTALLATION TRAINING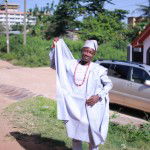 In my last post I talked about the opening ceremony event of the SOLAR INSTALLATION TRAINING PROGRAM which took place at the Technical Orientation Center (TOC) of the National Agency for Science and Engineering Infrastructure (NASENI). You can read the post here: https://read.cash/@Fatherfaith/opening-ceremony-event-of-the-naseni-cornell-solar-installation-training-program-c43da6ca
Those present at the great event were:
Bartholomew Suwa: Public Affairs Section, US Embassy, Abuja.

Dr Victor Fodeke: Managing Director, Tellco Europe-Nigeria

Engineer Gbenga Obasa: Orun Ododo Power Company Limited (OOPCL)

Jeffrey S. Steven: Alfred State College, State University of New York

Josef Abutu Abu: Cornell University, New York

Tarig Ahmed: Ministry of Energy, Khartoum, Sudan

All the Directors from the National Agency for Science and Engineering Infrastructure (NASENI), Abuja, Nigeria
The training was organized to train unemployed and underemployed youth in Nigeria on solar installation. 40 youths (20 males and 20 females) were selected for the training which lasted for 2 weeks.
Here are more pictures from the opening ceremony: