Anytime I see another beautiful breaking of the day I say thank you Lord because it is not easy to survive till now and it is not by how powerful I am nor how beautiful I look but by the grace of God almighty, though it 11: 20am but still am glad to see another day.

So I believe anything we all wake up to see a brand new day we should always be grateful to God be we sleep and He doesn't, we eat and He doesn't, we go out to catch fun but God doesn't all He doe is watching over us and taking care of us so don't you see that he's worthy of our praise every day?
Back to the matter of the day
What is wrong with the marketing job is the question for the weekend because it seems like there is a lot attached to the job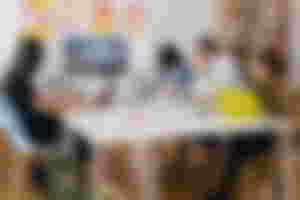 There is this beautiful family that does everything together( house chores etc) I mean the husband and the wife they don't have a kid yet but still, they are not bothered the husband work in a construction company and the wife is a full housewife ( she's not doing anything) meanwhile she isn't cool about it because she believes that sometimes her husband might get broke and she could help him if she's working
But her husband refuses to allow her to work because he believes he's capable of taking care of the house responsibility but the wife is not happy about it, they kept on arguing about it for so long and the husband keeps telling her(wife) that he can't allow his wife to be working under someone
One day the wife got tired of seating at home doing nothing so she went out to look for a job since she's a graduate and a first-class student in banking and finance, she got a marketing job from one bank because she qualifies for the job and she took the job without her husband's consent
When the husband came back from work he noticed that the house was well tidy like as if someone is traveling and so he called his wife to know her whereabouts but she lied that she went to greet her sister and as a lovely and gentle husband he believes the lie.
Later in the evening she finally came back home and immediately he set his eye on her he knew something is wrong somewhere but he didn't believe that his wife could start working behind his back but he never asked her so she went straight into the kitchen to prepare dinner they both eat and went to the bed
The next morning of course as a marketer it requires waking up to get set for work and she's awake preparing breakfast for herself and her husband so when the husband finally get up from the bed he saw his wife well dressed like someone going to the office and then he asks: are you going to your sister's house today again? And now she couldn't say one word straight then she began to stammering ( am... Oh sorry i....) Then her husband stood up and move closer to her and said: look I am a gentleman to the call so just tell me and I will understand
Then she said: I got a bank job yesterday and I don't know how to tell you since you don't want me to work but am already tired of sleeping at home gaining weight so I had to go out to look for a job
The husband: hmmm but darling did you know that what you did is called "disobedience"? but I won't quarrel with you because I can understand that you want this family's growth but you have to promise me that if anyone harasses you there you will quit the job
Wife: yeah I promise (smiling)
Husband: so what department are you in the bank? (smiling)
Wife: marketing dear (smiling)
Husband: what! Market what!
This is how real problem start in a sweet home full of sweet things, sometimes I wonder why some men don't like marketing jobs and sometimes I wonder why some don't want their women to work
To be continued tomorrow, thanks for reading.