They both works together
What works for you? Talent or handwork even though they both works together.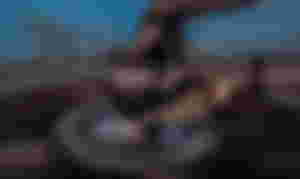 Talent is what you can do even without learning how to do it from someone, it is an ability we develop naturally.
I believe everyone has talent in them because as a human there must be something we can do without learning from someone which is talent but some people might not take it as talent and that is why they don't believe they have talent in them.
I have seen so many people doing things without learning it somewhere, I saw a post on Facebook about a boy who constructed a train with a baby food container and that's what is called talent.
I also read a post about a lady who constructed a chair and table with a used tire that is also called a talent because I don't believe they learned that from anyone but because the talent is in them and that is why they were able to create something meaningful from the waste product.
Mine is both talent and handwork, when I was living with my sister I do plait her hair before I started learning work at all and the one I plait for her sometimes is better than the one she used her money to plait and that is the main reason she supported me when I told her I was going to learn how to make hair because she knew that I have the talent in me already all I needed is just that perfection of the work.
Handwork is what I love most because right from when I became an adult I have passion for handwork but because I was earning a salary I couldn't bring myself down to learn since I know I won't collect payment for the period am going to learn and it's going to be a very hard moment for me.
But with determination and focus I was able to stand on my feet while learning, come to think of it everyone can't work in the office some people have to be in the market, while some have to be in the shop just like me.
________________________
There are things you should have before you decide to learn a handwork and they are:
Determination: if you do not determine you can't learn handwork because there is a lot to learn and not just to learn and if you can't overlook some things you can't learn work as well.
Focus: a doubting mind can't learn handwork because once you lose focus on the work you can't know what you are learning
Talent: sometimes people that learn handwork have the talent if not they won't know what they are learning just like one girl I met in my boss's shop she was the second person that came to learn right after my boss opened her shop and still she can't comb hair smoothly.
I believe she doesn't have the talent to learn the work and talent and passion work together once you don't have you can't know the work no matter home long you learn it.
Passion: once you have passion for the work you are good to go because passion will help you focus on whatever you want to learn
Support: this is the most important thing when someone wants to learn handwork because it is not easy to stay somewhere working so hard without getting paid for your stress and sweat but when you have good support you won't see all the stress as something important at that moment.
________________________
What works for me?
Both talent and hardwork work for me because I have the talent of making hair even before I choose to learn it and the passion I have for handwork keeps me going.
Here is one of my handwork