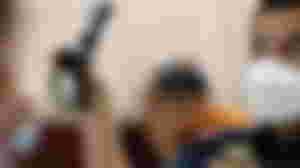 One of the headlines yesterday (July 4, 2021) was the approval of using body cameras of our police officers during operations. This motion was being raised because of the thousands of deaths during the war on drugs campaign under President Duterte's administration. The victims' deaths were tagged as "nanlaban" or they were allegedly fought back by the policemen during operation, leading the officers to shoot them.
The most controversial case during the war on drugs was the death of the 17 years old teenager who was falsely accused as a drug pusher and was shot to death by the arresting officers. After trials and interrogations, the three officers were proven guilty of murder and were sent to prison. This case has raised so many issues and concerns regarding human rights and the injustice practice of the power of the authorities. By these, it strengthens that approval of using body cameras during operations of PNP officers.
The use of these devices will ensure that officers will not go beyond what they must do and protect everyone's right to life. Indeed, the War-On-Drugs has raise issues and concerns about human rights, but at the end of the day, justice will be served to them accountable.