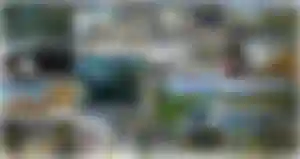 This is the continuation of my previous article (check my blog to read the first one). The most prominent and one of the biggest projects that the Duterte Administration doing right now is the Build Build Build (BBB) Projects, this program is a centerpiece program of the current administration that aims to bring back the "Golden age of infrastructure" in the country. The "Golden Age" was during the regime of former president Marcos. The current administration wants to revive it once again and believe that it will lead great economic blasts.
The BBB Program aims to increase the public infrastructure expenditure from an average of 2.9% GDP during the former president Aquino regime to 7.9% at the end of Duterte's Administration. The program will cost approximately P 8 trillion to P 9 trillion from 2016 to 2022 to cover up the infrastructure backlogs of the Philippines.
The following some infrastructures that are under the BUILD! BUILD! BUILD! PROGRAM.