I believe that read.cash and noise.cash are the best blessings I have received in the last quarter of the year 2020. These 2 platforms are the doors on how I found Hope, built Dreams, and looked forward to a Better Future with Bitcoin Cash.
Because of this, I want to share the blessings I am receiving on both of these platforms through the help of BCH with all the people who have somehow lost their hope, dreams, and future.
---

I have always dreamed of building a charity or foundation that aims to help unfortunate people, especially children.
So with my personal and special project, the #BCHCares Project, I aim to share the Hope I received and continue receiving and help build Dreams for anyone who is struggling to make their dreams become a reality.
Starting tomorrow, I am going to share 20% of my total daily earnings from the read.cash and noise.cash platforms to my $BCH Cares Project wallet, and I will use this fund to share Hope and build Dreams for a Better Future through Bitcoin Cash.
---
"#BCHCares- Sharing Hope Through Bitcoin Cash"
I live in the northernmost part of the Philippines, Pagudpud, Ilocos Norte, and our place is prone to typhoons. Every time the country is hit by a typhoon, some of the barangays in our town get flooded. Some families would also lose their belongings and even their houses because it is wrecked by strong winds and heavy rains.
Just recently, Cagayan Valley, a neighboring province to where I live, was submerged to flood water, and families were left with no choice but to sleep on top of their roofs. With this unfortunate event, #CagayanNeedsHelp trended worldwide, and numerous help and donations were given to the victims of this strong typhoon.
With my #BCHCares Project, I aim to share Hope through Bitcoin Cash, by buying some basic needs, such as food and clothing, which will be donated to the victims of typhoons who are living in our town or province or to anyone in the Philippines. This way, I will be able to share Hope with them that no typhoon or any disaster can wreck their life down. With Bitcoin Cash, Hope will be shared with everyone.
---
It is not a secret that the Philippines is a third-world country and that many are living under the poverty line.
With the 'Hope For a Home Project' that I have shared a couple of months ago, I am inspired to take a bigger part in the realization of that project where every family will be given a lovely home.
In our town, Pagudpud, through the 'Hope for a Home' project, one family's dream has already been built with the help of generous people who assisted hand in hand to give that family a better house to live in.
With the Bitcoin Cash that I will be able to earn, I aim to donate the most that I can, once this project will start again with a new dream, a house, to build.
---
'Education is a powerful weapon, which we can use to change the world.'
I believe that education is not a privilege but a right for everyone, especially for children.
With my #BCHCares project, I aim to donate even school supplies and learning materials to children in our barangay or town who do not have enough money to buy these things that they need for their education.
By supporting these children to acquire their right to education, I believe that there is a better future ahead of them. And with the education that they will acquire, they will be able to help create a better world.
---
I believe that once these plans slowly materialize, the people who will become the beneficiaries of this project will be aware of the goodness of Bitcoin Cash.
Through this simple way, I will be able to spread BCH awareness and help in the mass adoption of this coin.
---
These are my long-term vision for my #BCHCares Project. But just like everything else, it also has to start small.
This project will be a long-term commitment with Bitcoin Cash. I have a lot of plans and goals that I want to achieve in this project, and I am determined to accomplish them with the help of read.cash, noise.cash, and Bitcoin Cash itself.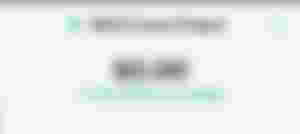 Just like I have mentioned, 20% of my total daily earnings on read.cash and noise.cash will go to this project. I am not earning that much, but I believe that a small number when gathered together, it becomes big.
Even if I have to write every day on read.cash and make noises on noise.cash just to earn a good amount of BCH, I will do it for the realization of this project.
I don't aim to build a whole house for a family, buy relief goods for a whole town, or give every child school supplies. What I aim for is to share Hope and help build Dreams for a Better Future through Bitcoin Cash to the best of my abilities. Even just one person who will be benefited will already be a huge success for this #BCHCares project.
This is only the beginning of this project, and I am so excited for what the future holds. I hope and pray that this project will soon materialize.
All for the love of Bitcoin Cash. 💚