Today we are going to talk about sachet water in Nigeria (locally referred to as pure water).
Initially, I can recall that when I was a child sachet water was ₦5 and a bag was ₦90.
In 2016, the price of sachet water was ₦5 but now it has increased by 400% and could possibly go higher in the nearest future.
In some part of Nigeria (the northern region), pure water is still ₦10. I begin to wonder if this is to favour the president's people. We all know that the president of Nigerian is a northern citizen. Normally in the North water is scarce because they have a desert-like area and a low amount of rainfall. If water should increase in any way it should be in the Northern region where it is mostly needed. All we see is price increment in the south where there is a steady amount of rainfall even during harmattan occurs. Sachet water in the south is now ₦20. A bag of sachet water as at last week was ₦200 but now ₦250. This is totally unfair, we don't deserve this. If at all there would be an increase in the price of pure water it should be general and not only in some parts of the country.
In my own view, this increase is out of the higher authorities wickedness for the other region's people. The visibility of partiality is too obvious. In the north, goods are always cheaper but in the other regions all we see is price increment.
In Nigeria, most house holds depends on sachet water as a source of portable drinking water. During the time of light scarcity, it is used most times to prepare the daily meal. Now due to the devalued currency, people that can't afford to use sachet water to cook now try to fetch water from other sources and when it is unavailable, they dwell in hunger until they perish or BEDC restores the power outage.
The youths of nowadays that is supposed to riot and complain about the price increment are now embedded in other stuff like giving out cash to davido and scamming people.
Pure water is one of many things that has experience inflation in price. The lowest quality of rice in Nigeria is even too expensive to afford. A cup of rice is now ₦150. This rice of ₦150 is even filled with stones and dirts. Beans is another topic on its own. You'll buy a basket of beans at a higher price that that of rice and it'll take over 6hours to completely get ready (soft). This period of steady cooking will even finish the expensively bought cooking gas in your cylinder. Cooking gas also experienced price inflation. Due to the fact that Nigeria imports almost all commodities, the currency would be devalued further leading to more inflation.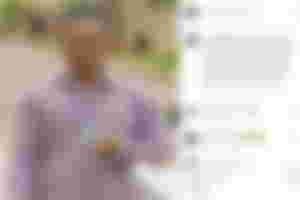 A popular Nigerian actor Walter Anga posted on tweeter a few days back. Many citizens earn less than ₦30,000 a month and they haven't even balanced their normal life yet. Those that can no longer afford sachet water now drink tap water which is unclean and dangerous to human health.