Parisians- 'Citizens of Light' got lit up by Real Madrid Galaticos in a thrilling Remontada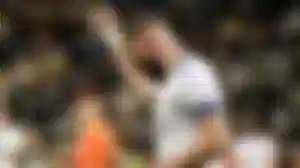 It's not over until it's over, this is football anything can happen. These phrases aren't just cliché. Yeah, you are not mistaken. It was a quirky twist of fate when the star studded attacking trident of Paris Saint Germain took on the Galaticos of Madrid, the Spanish giants in the round of 16 of the Uefa Champions league. Stars do shine brighter when they function as a unit compared to when being apart was the case here. The Galaticos shone the brightest!
Real Madrid kept it late in a thrilling showdown at the Santiago Berbaneu, delay sure isn't denial. In more practical terms, it took them just 17 minutes to thump the Parisians and turn it all around, thanks to teamwork and the individual brilliance of the mercurial finisher Karim Benzema who had a night to remember in the presence of thousands of home supporters where he also broke the record for being the oldest player to score a champions league hat-trick (34 years and 80 days). PSG came into the game as the front runners, statistically favoured to win the tie having a one goal advantage courtesy Kylian Mbappe's stoppage time brilliance in the first leg of the tie. Although I'll argue that the Los Blancos were the underdogs, The Parisians were still tipped to qualify for the next round as seen on different social media polls.
As the game kicked off, it was business as usual, the confident PSG side took off from where they stopped with beautiful strings of passes across the pitch, creating quite a number of chances and Mbappe even converted one which didn't stand as he was caught offside. Few minutes after, Paris saint Germain eventually broke the deadlock for the night, it was Mbappe's moment again. He lashed into a Neymar's pass, took defenders on with ball on his feet before he beautifully converted the chance, beating the Belgian goal keeper Thiabut Courtois to his near post. At that moment, it pretty much seemed the tie was concluded; little did we know it actually was yet to start. Seemingly PSG were enjoying themselves and were running away with the win with the established 2-0 aggregate win. They dominated the first half in terms of possession and chances created but in all fairness, Real Madrid were still very much alive, kept their composure, created decent chances and Benzema, a constant threat kept knocking. They sure still had over half an hour to fight for something and they did!
Not exaggerating, it's been the most thrilling second 45 minutes display in the champions' league this season. One could have even predicted the next call for a goal would have been PSG's few minutes after, Mbappe struck again but was immediately ruled out for offside. End to end presses from both sides, attacks, passes was such a delight and a gift to all football lovers. Tactical changes ensured from the Real Madrid camp with Asensio and Kroos coming off for Rodrigo and Camavinga respectively. This solidifies my claim, that "Modern day football is a game of pace and technique".  Madrid's persistence grew ever real and eventually paid off when PSG Italian stopper mishandled a back pass, succumbed to Benzema's pressure and gave the ball away to Vinicius Junior who beautifully played a return pass back to his captain and the ball found its way to the back of the net. Some would have argued that the first goal was a fluke, that's what happens when preparation meets opportunity. 
As expected, the French giants were poised to respond to goal it seemed they gifted their opponents, in a bid to pull one back, they lost possession of the ball again to Luka Modric's playmaking mastery and Vinicius jr speed, the eventual blow was then landed by Karim Benzema yet again for his second of the night. The atmosphere changed with immediate effect, both teams were leveled, it was now a matter of who wanted it more. It sure didn't take long before we got the response, barely a minute after the pass from PSG, Vini charged Again found his way to the French box again and a poor clearance brought about a loose ball for timely positioned Benzema yet again who wasted no time, lashing it in for his third and final for the night.

It was a night to forget for the French giants, they were shell shocked and all attempts to pull one back was go no avail. The fastest comeback in a round of 16 ucl game was completed. The game brought alive a reality, 'It can go from zero to a hundred in no time and vice versa', Na who give up mess up!