Ethereum Weekly (8/4/23)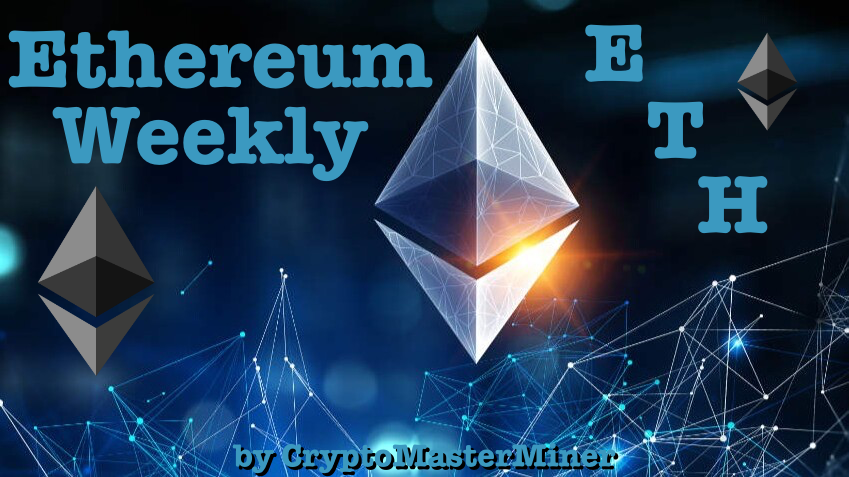 Ethereum Weekly - Edition 35
Welcome to the latest edition of Ethereum Weekly!
Ethereum (ETH) had another ho-hum week, dropping a couple of percentage points but not much in either movement or volatility. Looking at the price of Ether over the past few weeks we keep seemingly settling into lower highs on the charts. The shallow downtrend pattern doesn't seem to give us too much hope for a short-term upside until we can break free of the current trading range.
As we leave July, which didn't turn out to be the positive month for cryptocurrencies we have been seeing as of late, we turn our attention to August. The eighth month of the year puts us in the middle of the summer months in the Northern Hemisphere and tends to be the slowest month of the year for trading ETH. That inactivity generally leads to lower fees on the network so if you are needing to move some Ether or perform any transactions on the Ethereum network, this may be a good month for you to do so.
On the SEC front and trying to follow in Bitcoins footsteps after a number of applications for spot-Bitcoin ETF (exchange-traded funds) the second largest cryptocurrency has had a deluge of ETF applications submitted itself. At least a dozen applications have been filed in the past week, including from companies such as Roundhill, VanEck, Volatility Shares, and Proshares which submitted four applications themselves along with Bitwise (3) and Grayscale (2) also putting in multiple applications. 
So how many of these will get approved? I wouldn't hold your breath as not a single Ethereum futures ETF filing has ever been approved by the SEC. 
Back on the Ethereum network, we are looking forward to the Cancun-Deneb upgrade, also known as Dencun, which will significantly improve both the network's scalability and security. The best guesses are the upgrade will be implemented sometime in the fourth quarter.
If we take a peek at the technicals, Ether is currently trading between its 50 and 200-day EMAs (Exponential Moving Averages) which generally signals we are in a consolidation phase. The RSI (Relative Strength Index) indicates an overbought market but it is declining so we could reverse the trend in the coming days which would be more bullish.
Writing Bitcoin on Mondays in addition to this column forces me to constantly compare the two largest cryptos. With that said, I rarely compare the two but currently feel like Bitcoin has more potential in the short-term but I tend to like the fundamentals for Ether more long-term given where each coin currently sits. I do like the diminishing supply-side economics for both assets as they currently stand, however, and obviously hold both in my portfolio. I believe holding both is critical to any long-term cryptocurrency-focused portion of your portfolio.
The Crypto Fear and Greed below sits at 54 in the "Neutral" range up two points from where it was at last week. I hope everyone who reads this has a great weekend!
---
Ten Must-Read Ethereum and Altcoin Articles This Week
---
Ethereum Price Statistics (as of 8/3/2023, daily close)
Ethereum Price = $1,836

Last Week = $1,861

Weekly High = $1,884

Weekly Low = $1,825

Market Cap = $219,665,729,517

Market Cap Dominance =18.23%

Trading Volume = $6,146,661,511

All-Time High = $4,878.26 on November 10, 2021

statistics provided by CoinGecko
---
Ethereum Fun Fact of the Week
There are a little over 510K active Ethereum addresses according to statista.
---
Ethereum Staking Statistics
Validators = 707,391

Block Time = 12.13 seconds

Staking Ratio = 18258%

Inflation = -0.3%

Total Supply = 122,373,866
statistics provided by StakingRewards

---
Crypto Fear & Greed Index
index provided by Alternative
---
What is Ethereum?
Ethereum (ETH) is a digital cryptocurrency that is known for being a blockchain technology that operates decentralized apps (dapps) such as decentralized finance (DeFi), non-fungible tokens (NFTs), stablecoins, lending, and more. First proposed by Vitalik Buterin who published a whitepaper in 2013 and went live as a network in July 2015, Ethereum claims it is not controlled by a centralized authority but that can be questioned. Ethereum went through the "merge" in 2022 moving from a proof-of-work to a proof-of-stake mechanism becoming much more environmentally friendly. 
For more on Ethereum, please read the Top Things You Should Know About Ethereum (ETH) on Publish0x written by MuyAsk
For more on the Ethereum Whitepaper, please read the I Finally Read the Ethereum Whitepaper on Publish0x written by CryptoMasterMiner
Find Ethereum on Ethereum.org, Reddit, Twitter, Instagram, Facebook
---
* Where to Buy and HODL Ethereum (Referral Links) *
* My Crypto Work *
* Earn Free Crypto *
---
Thank you for reading Ethereum Weekly!
Resources