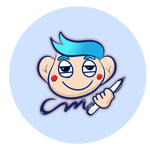 NFTs Marketplaces has a big impact and the the powerful asset of a certain cryptocurrency to gain more supports for a mass adoption. Recently, NFTs was boomed and became the main topic of any crypto blogging sites and video sharing platforms due to the surprising things it can do. Just like it'd capabilities to make individual rich in just selling an 'ordinary images' using the power of 'Blockchain Authentication'. Anyway, you already knew about this don't you?.
Due to these things, NFTs Marketplaces appeared supported by different Cryptocurrencies network. Ethereum has raribble(ETH), Binance (BNB) has AirNFts and of course Juungle for Bitcoin Cash.
Now other people might asked what can they do in these NFTs and Marketplaces, How they can ride with these trend? How to earn from it?( one of the most user question you can receive from them). Now if you are beginner and want to experience NFTs thingies, you are in a right place. This can be a guide and tip for.
Since we are a solid Bitcoin Cash supporters and enthusiasts. We are going to focus on BCH Marketplace Juungle.net since this is my favourite and obviously, you are Bitcoin Cash holder and this marketplace is powered by Bitcoin Cash blockchain and network. Expectedly, you are going to experience lightning speed and less fees transactions.Of course, that's Bitcoin Cash. More powerful than the other cryptocurrencies network out there XD.
So this could be a guide or what are things you are going to encounter if you want to try this kind of environment. Now if you are an old user of Juungle, you can share some tips in the comment section too. This might be a great help for the newbies.
Let's get started..
Tip#1
Be Knowledgeable First
Before entering Juungle.net to experience the NFTs, it's recommended that you have to read about NFTs and the Marketplace itself. You can join the community to have more interaction with the other users too. This can help you to have ideas how the market woks.
Community
Join here: Juungle.net
Juungle.net(Telegram)
Juunglers(For More Interactions created by @carisdaneym2
Tip#2
Bring More Patience
Let's say for example, you are already bought your first NFTs in the market(Waifu, CryptoRat etc) and want to sell it to gain profit, patience is the key for that. NFTs creators and even the other users in the market are very competitive. If you want to resell it for your desire price, just wait for the right time. Believe me, you can't sell that instantly. That's how NFTs works. Just put in your mind that there thousand of NFTs are listed in the market.
Tip#3
Ask Yourself
There are different types of users in the market. The one who loves to collects NFTs, and the one who wants to make profits. Now obviously, choose your role first. You just want to join Juungle for find some BCH NFTs to keep? Or you want to try Juungle to make profits and earn extra Bitcoin Cash from it(Like us). Then if you are profit maker, you need the tip #2.
Tip#4
For The Users From Different Marketplace
You might be surprised with the new ecosystem just like how the Wax users trying to use Juungle.Of course, these could be a confusion about the two marketplace for the users. You can experience unexpected things that may break your expectations, or things that new to you especially the Juungle Marketplace is a young Marketplace.Number 1 tip may help.
Tip #5
There Are Just Few Collections In The Market(For Now)
As what I have told, the Marketplace is in the Alpha stage for now. Obviously, collections are limited . This is due to the fact that , Juungle auction and minting features is not yet added unlike the other existing Marketplaces. Good thing, devs are now starting make these things into reality and yeah started their flipstarter for the 2.0 version of the Marketplace.
Tip#6
Tip#7
Be Ready For The Surprising NFTs Airdrops
In Bitcoin Cash marketplaces, there plenty of NFTs Airdrops like the other marketplaces.It's better to be active in the group chats to be updated for the possible appearance of free NFTs. Usually newly launched NFTs Faucets only last for weeks due the numerous claims. So it's better to be active and stay updated for these surprises.
Be Wise
When it comes to choosing NFTs, just put some qualifications for them. You can check the prices if it is worth it to buy. Just apply some quality checking before you buy. Do not just rely on the lowest prices of them if you want to resell it again. And don't forget the tip #2.
Lastly ,Tip#7 Just Be Faster Like Flash
Yes! Juungle Marketplace users are too competitive when it comes buying NFTs that are listed in the marketplace. If you want to buy the quality and worthy NFTs, just be fast like Flash 'cause our eyes are focused on the market and waiting for the quality NFTs to be dropped.
Final Thoughts
I've been using Juungle Marketplace and already made some BCH from it by buying and selling NFTs. There is no wrong in trying new things as long as you are ready for the consequences.
If you want to add some tips, you can drop it in the comment section.
Thank you for reading 💚