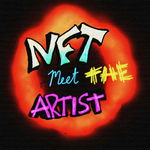 I always like to talk to different artist and a lot of artists are branching out from Opeansea to Atomichub and he is one that interests me not only is he dropping some great NFT's his big picture is for a game . This interview was done over a couple days as he is a busy man I think since we started doing the interview he has dropped at least three NFT's and they have been nice
Hi Crackers ! 😁
Hey how's things ?
Rendering another textures right now:) Polishing them😄
Nice when you hoping to drop them ?
I hope in about 2 hours some sort of it, have to create a little bit new concept:)
Busy man
What's your Artist name ?
So my name is Spacylion . its about new hope and story.
Where you living ?
I'm from Russia
What your full time job ?
love to chat, trying to speak as much as I can btw I'm dentist so its my job
Your a dentist by day NFT artist by night?
Yeap
(Day 2)
How you ?
Hi, I'm fine , Excited and happy .
Good how did your drop go today
Well I have 3 orders so created first, its 8 pm so it will be looong day to me
I know the feeling so did the first drop do well ?
Yeap hope so but it interesting to know that this drop came for me not as a new selling item but a new step of idea in the whole meaning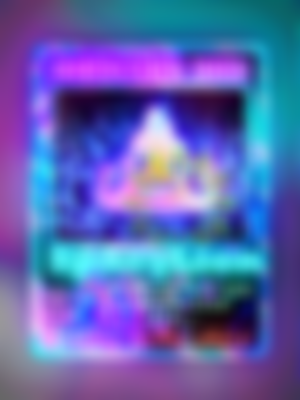 As Malevich square - equal to Shit Coin
Cool I love them kind of NFT's . Did that take long to make ?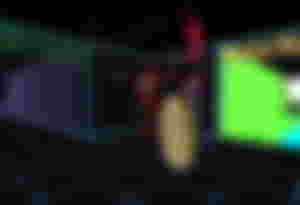 Yeap, it was for about 3 days we were concepting this NFT, with @jrome128 (twitter) great 3D designer of virtual reality, that was grateful to speak with him and met in Space check him out
I will do . So where you in work today ?
Yes in real life I'm Dentist Surgeon in St. Petersburg - Russia, implantologist , in Galaxy - I'm director of movement SpacyLion . Its great to me to work in this ways because its about of art, Art of body and art of mind.
Today working in both ways - morning started with 2 operations now I'm at home, rendering till the end
How did you come across NFT's ?
Well my mother is traditional artist the whole life, i draw a lot in my life and it is about of lot of styles, what is interesting is that I began to draw from the 1st year of the university and continue to this day. It's just digital now and I really like it because the community is very kind and responsive. in the last few months I have finally switched exclusively to digital drawings and I also promote my mom's drawings (@NFTkosach) because she has exceptional drawing talents. Dentistry is the same art, the purpose of which is to help a person. Art always keeps up with the times and helping people - "non nocere".
Art is a big thing in your family ?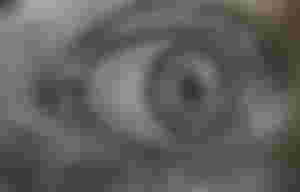 Yeap, my grandma is architecture, mom is artist me - dentist, of course i draw teeth in my life - a lot of them! But the most lovely person of my arts are eyes. This is my weakness. in them you can read everything about a person
So you like to draw eyes so will you be doing some eye NFT's in the future ?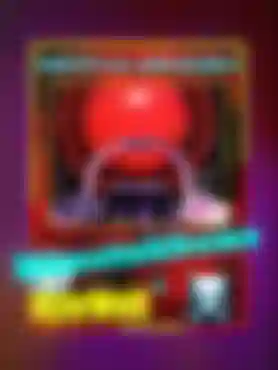 Sure, there definitely should be some eyes in the journey of SpacyLion
I just have a baddie out of doom the floating eye baddie
Cool I will be doing some sort of this style of course! Pirates of the Space are almost creative and dangerous
What is Spacylion all about ?
This is about Lion, symbol of strength & glory for your collection.
Free to play game in our future community. Flying throw ages of Universe. Pilot SpacyLion and his crew on the way to the conquests of space. Join, you can choose which characteristics you will pump, which Moments of the flight you will remember - it all depends only on you!
Whispers above Us
https://opensea.io/accounts/SpacyLion
So you where on Opensea and you left to come here or are you still minting on there
I'm still there but, you know, Etherium fees are so bad so for human honour I always on WAX 90% of my time. OpenSea is some sort of my business card. 1/1 exclusive ones are there. Maybe just for me maybe for some Kings who knows
Yea I get you
How long you been minting NFT's ?
Since February, 2021, just started and have great mind. Collection of 50+ cards
IN count of Numbers # More then 800 I hope.
3 collection on AtomicHub - already WhiteListed - that's my proudest I think
Wow that is some amount 1100NFT's and But how many you created ?
I created all of them . Its all my hands

last one collection is not verified so 1100 NFTS minus 400 = 700 verified NFTs
Last one is the first collection, I setting up there all the stuff to recognize how to work on Atomichub
My god how many you creating a week ?
in a week? Its hard to say, well - I'm trying to create 1 card in the day but last week I was ordered some NFTs by great NFT holders, @CatFreshEnt , @NyteWolf503 , great @oxoprod and it is only first step. I'm looking forward to connect as much as I can with artists and collectors, in my story SpacyLion is coming to WARP in the whole crypto Systems to find out NFTreasure - its about mental its about heart
just for now rendering next drop for example. Its new collaboration with great artist - @MarcusNFT very smart guy and friend of mine check it out
(Day 3)
How has the week been for you ?
Week was amazing for me, new friends, for about 7 new cards and the biggest one drop I ever created.
A clip collaboration of professional sound engineers @yumyum
https://twitter.com/YumYumFarm/status/1390777861762654215?s=19
That was so tough and exciting for me, for us to create this, for about 20 hours work during only drawing
So I am guessing been a busy day how you finding atomic hub are you getting a fan base going ?
AtomicHub was firstly represented me by @NyteWolf - https://twitter.com/NyteWolf503
Best friend of mine and it was a great find for me. At that time, I just started to make a Telegram channel and at the moment I conduct, in general, sketches and my ideas there. It looks like a big book with many chapters that are added every moment of this galaxy.
Instead of a story about an idea, I will provide a background.
https://t.me/joinchat/Aa8Qti_ACiNmMWYy
Pt.1✨Hello to Universe! Background
SpacyLion decided to reach the Crypto NFTreasure.
What's the NFTreausre? We can not know what it is, so many networks, currencies, people, we need to look for answers. the answers can only be obtained from a height, and therefore it was decided to go beyond the borders and up. having supplied the ship with provisions, we began to recruit a team. any cruiser needs a team, especially if it needs to prepare food, pour ether and fuel, and charge the light bulb in the rescue airlock...
We have SpacyLion on a board as a pilot, so check your seatbelts, there will be few stops!
🪐Stars are here, so you can touch them in a while and i will help you with it.
🎟 First of all lets check your tickets to ride and then we'll lunch up!
🌠 WAX Collection and star Mapping:
85/100 cards, Check your Number #
So the big picture is your NFT's are going to be for a game ?
I hope so maybe the game, for now its a book. I m working with creating of RPG gaming but its very hard for me. By the way if there will be some gaming designer - I'm almost open to discuss it!
I'm just a Dreamer of Art.
What kind of game app or website ?
Maybe some sort of text rpg i think - this is the first step of everything
Would you go to space, how much carrots in your pocket to eat and how much Moments of WARP jump left on your ship, it would be interesting thing i hope
Fight with pirates and open the CryptoChests
You check out https://t.me/endlessloots he runs quests like that on here like dungeon and dragons
Very nice to see of course will check!
You should might give you ideas of where you would like to with your game or what about alien world way ?
Well the main plot of SpacyLion story is warping the space and finding some treasures
Unlike many games, it will not be stationary on one planet, where some cryptopeople grinds their pieces of land, but there will be a constantly evolving game that will depend on people, that is, the next chapter will proceed from what happened in the previous one. A meeting with alien worlds will also be, this is an integral part, respectively, it will be possible to make friends with them, take them into a team, which will give additional perks, well, or just shoot off their limbs, and take away what they are guarding there
Will there be lots of NFT's to earn and could you see yourself leasing space to NFT artist ?
Well this Game is just in my mind for now I don't know exactly steps for it but it definitely will be nearest future, so stay in touch and grab all what you see who know what will be the price of living on the ship!😁😁😁
I get you so this is a big project so
btw I have web version of our Big Project will sent you
Brilliant
So who is your favourite NFT artist ?
https://twitter.com/CryptoBunnies2
and of course Stache & Bosak as masters of NFTs
Cool do so what your favourite NFT you hold in your wallet ?
Well let me see . Oh I get it - my project of course😁😁😁😁 Cause I know what's behind it
But of course I love this the most for now on Atomic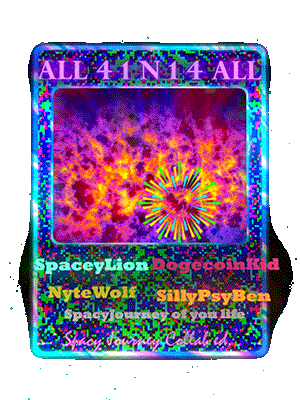 https://wax.atomichub.io/market/auction/207032
Its not a simple auction its the first idea of Collabing more then 2 artists on the same card, textures are from @SillyPsyBen https://twitter.com/PsySilly , promoting and CryptoKicking my ass to draw - from @DogecoinKid https://twitter.com/DogecoinKid and symbol of my first step on Atomic Family of 22.22 move is @NyteWolf https://twitter.com/NyteWolf503 on it
It means
All 4 1 A 1 4 ALL
Brain , Mental Power , Promoting and speech , And the Heart
LOVE THAT !!!!!!!!!!!!!!!!!!!!!!
So tell us a random fact about yourself ?
Well I'm dentist, implantologist in real I love people, love to help them love to see their smiles. Love to draw, love Spain
So when your not making NFT's what do you do for fun ?
For fun well few things - I'm PhD student of medical university so have no any free time, working, doing a lot of operations, so my free time spending on draw and with my beautiful wife
Oh wow you do live a busy life
What advice do you have for people getting into NFT's ?
Well, I have a lot of chatting guys everywhere in my life. Its not advise for collectors or artists its for all on this planet - stay human. That's the point. Don't let the power of space broke your jobs, life and family. Be careful with this weapon and improve every skill you have!
Have you set up any channels for people to check on your work or for you to interact with you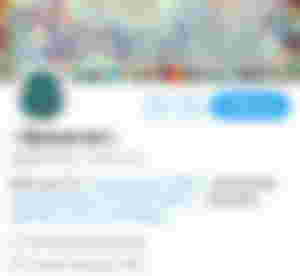 My Twitter is https://twitter.com/SpacyLion?s=09
Of course! My channel is on TG, I deliberately did not make any sites to be with my readers and communicate with them, I love this business
Join, I will be glad to everyone!
❗️Join Tweeter/Instagram: @spacylion
❗️Join Telegram: t.me/SpacyLion
So do you fancy doing a giveaway as part of the article ?
Well why not ! If you tell me the time of article I will create a special drop of 2.2 WAX
150 NFTs! I will create it soon, today of course:)
very nice I will prepare to this
Thank you so much .
Btw - today will be special edition drop of our YumYum project, stay in touch and check out news!
Anything you would like to add for the readers ?
Well I will drop my handmade ART of the global move
That was some Years ago and now now it is on the Chain!
https://opensea.io/assets/0x495f947276749ce646f68ac8c248420045cb7b5e/39007091903519072994938854730518159112542344311295298275757171537572280664065
And addition to Project of Yum please add link to OpenSea!!!!
https://opensea.io/assets/0x495f947276749ce646f68ac8c248420045cb7b5e/39007091903519072994938854730518159112542344311295298275757171589249327169537
Thanks so much for your time sorry it took so long to finish
That was pretty cool don't worry! And please be sure after your publication will finish you will hype yourself very high I will promote you
I am here to promote you not the other way round
Ok thank you for you work !
I am very grateful for your work!
Oh check his work out on Atomichub here
https://wax.atomichub.io/market?seller=3a5ra.wam
Rights guys a big thank you to Spacylion for bearing with me over 4 or 5 day of an interview this guys is giving out the most NFT's every for MEET THE ARTIST please show him some love any way you can and dont forget to leave your wax address at the in the comments . And till next time..............